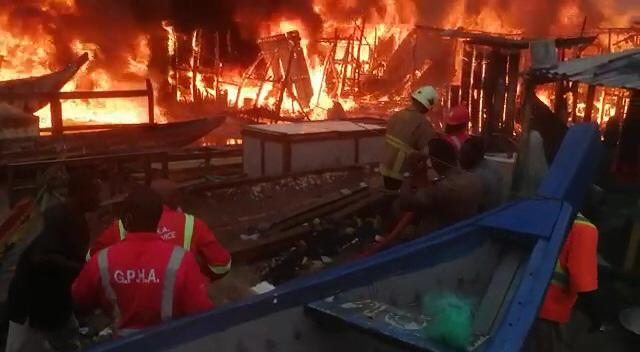 Fire razes over 200 structures at Adjringano
Fire has gutted some structures at Adjringano along the East Legon 34 Boundary Road.
The fire started Friday night around 20:00hrs.
Reports indicate that the fire heightened as a result of emissions from a gas station nearby.
In a Facebook post, the Ghana National Fire Service indicated that about four teams had been deployed to "put the situation under control."
"No casualty recorded and over 150 structures close to the scene of the fire salvaged due to the bravery of our men, but unfortunately, over 200 wooden structures totally burnt," the service wrote.
This comes at the back of fire incidences recorded in Accra weeks ago over the weekend of 30-31st July as four fire incidents wreaked havoc within two days.
The weekend was busy for the Ghana National Fire Service (GNFS) as they battled the fire outbreaks at separate locations in the capital, Accra.
The first occurred on Saturday morning at Achimota Mile 7, while the second was recorded later that same day at the Darkuman Post Office area.
On Sunday, there was a fire outbreak at the Cocoa Marketing Board (CMB) /Abuja Market enclave and another at Agbogba.
At Darkuman, the firefighters had a tough time as an unknown boiling substance at the scene hindered firefighters from advancing to the fire scene because the contents of the burning area were not readily known.
The next day, another fire erupted around the Cocoa Marketing Board (CMB)/Abuja Market area near Katamanto but was immediately put out by the Accra Central Fire Department.