Five things Akpaloo promises to do when elected President
The electoral temperature in Ghana is heating up ahead of the December 7 elections, in spite of the COVID-19 restrictions.
Although the pandemic has frozen political activities, including rallies, it has not stopped presidential hopefuls from going on the promises spree characteristic of election years.
The latest to join the fray is the Founder of the Liberal Party of Ghana (LPG), Kofi Akpaloo, who was acclaimed as the party's Presidential candidate on Tuesday.
In a year in which the country's major opposition party, the National Democratic Congress, selected a former Minister of Education, Prof Naana Jane Opoku-Agyemang as its Running mate; the LPG Flagbearer also found capabilities in another woman-Margaret Obrian Sarfo-as its Vice-Presidential candidate.
Mr. Akpaloo, who is taking another shot at the presidency after being disqualified in 2016, described his running mate as "a trustworthy and creditable person."
He said the party owed its current status to Ms. Obrian-Sarfo, who was its former General Secretary.
Mr. Akpaloo said he had penned down Ms. Obrian-Sarfo, a businesswoman, as his running mate in 2016, until the Electoral Commission disqualified him from running for president.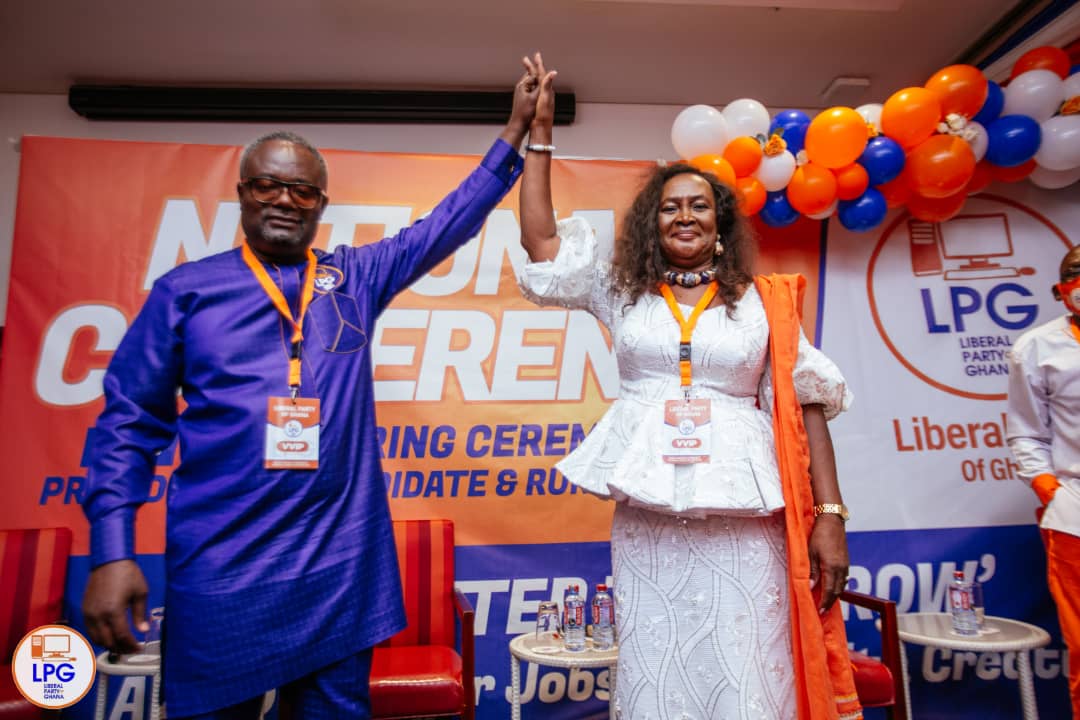 The EC, on Monday, October 10, 2016, disqualified 12 presidential aspirants, including Mr. Akpaloo from contesting the December 7, 2016 elections for various reasons ranging from forgery, impersonation to perjury.
But four years after the incident, he said Ms. Obrian-Sarfo, a former member of the 31st December Women's Movement, had the character and competence to handle the Office of Vice-President.
He also took the opportunity to outline some of the policies his government would introduce should the party win the December general election.
Mr. Akpaloo said it was his party's agenda to ran a government that would prioritise investment in education, health care, agriculture, information technology, research, and development.
Education
Mr. Akpaloo believes one of the surest ways to get Ghana out of the path of poverty to prosperity was to develop the people and communities
"We know this because having an extensive local and international learning and working experience, we have learnt that when human development is prioritized in society, carried along as a national agenda, the prosperity penetration increases exponentially," he said.
According to him, his government would also put in place the needed resources, policies, and incentives to develop the country's educational system from the primary, secondary through to the tertiary level.
He added his government would make Ghana "a place where our schools will be internationally competitive because we meet and surpass world's standards".
Mr. Akpaloo, however, made a promise to teachers and healthcare professionals.
"Salaries of our teachers and workers in the educational and healthcare sector especially will be something to be proud of, timely and compensating."
Information Technology
The 2020 flagbearer of the LPG said Information Technology (IT) was also one of his party's utmost priorities.
Kofi Akpaloo said a future LPG government would make the country "a place where our technology is driven and support the world's marketplace through our home developed tech services."
"My government will prioritize the tech sector with up to 3% budgetary allocation, this is unprecedented and it should be because tech products and services are a bold new area of expertise that is creating wealth today and will create more wealth for our future generation when we invest strategically today.
"The billionaires and investments that are driving the global economy today are
predominantly of the information technology sector," he added.
Security
Security featured prominently in Mr. Akpaloo's promises. He said his government would make Ghana the place to be in the world where the lives of its citizens and immigrants were jealousy protected.
"A place where the lives and property of our citizens and immigrants are safe because crime is minimized and job opportunities are abundant. Ghana is that place.
Entrepreneurship
Teachers and healthcare professionals were not the only ones who featured in the promises of the LPG's Mr. Akpaloo.
He said his team when elected into power, would "create one million entrepreneurs within four years. This is a promise with teeth. I have done it as a businessman, I will do it as a civil servant".
"The world has changed dynamically and the most important resource needed for transformational change, the most vital commodity, the most attractive capital, both foreign and local, are the people," he noted.
He added Ghana would be a place where students and graduates could compete internationally for jobs and services.
Unemployed graduates, according to Mr. Akpaloo will receive "a monthly startup allowance to help unemployed graduates start new businesses".
"Up to GHc250,000 will be guaranteed by our government to help support educated youths for self-employment."
Agriculture
Focusing on the Agricultural sector, Mr. Akpaloo said to increase yield and make the lives of farmers better; a future LPG government would mechanise agriculture and introduce agricultural industrialization.
He believes this will create more employment opportunities because farmers can earn more as a result of increased yield.
"Agro mechanization and its attendant agro-allied services in the areas of agro production and industrialization needs massive interventions and support by the government; we will put in place funding and subsidy regimes to support our farmers while discouraging food importation, especially in commercial rice and poultry production," he said.