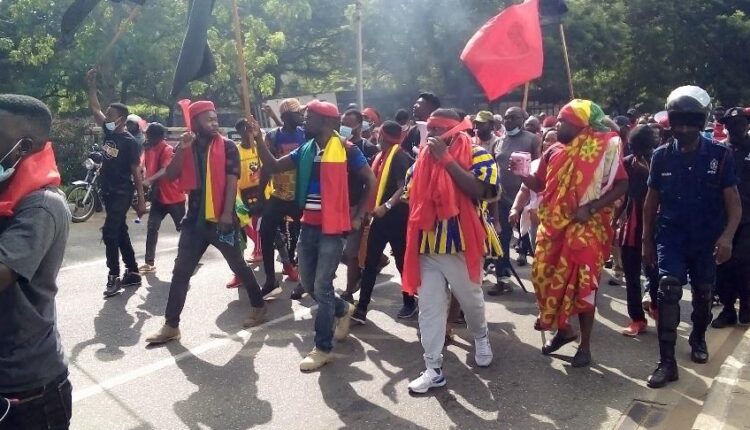 #FixTheCountry, Arise Ghana to join Martin Kpebu in 'Ku Me Preko Reloaded' demo
About five civil society groups, including #FixTheCountry and Arise Ghana, have agreed to participate in the "Ku Me Preko Reloaded" demonstration scheduled for Saturday, November 5.
The demonstration is the brainchild of Mr Martin Kpebu, a private legal practitioner.
According to Mr Kpebu, an ardent critic of the Akufo-Addo-led government, the demonstration addresses the government's refusal to alleviate the plight of citizens in the struggling economy.
He stated that the protest would reenact the historic 1995 'Ku Me Preko' demonstration against the then Rawlings administration, where Mr Akufo-Addo played a lead role.
He added that it is also to compel the president, Nana Akufo-Addo, to resign as the head of state.
"The government is blaming speculators for the fall in the cedi instead of tackling its depreciation… we will call on His Excellency to resign so that we can have fresh blood, fresh ideas," he said in an interview with Joy News monitored by The Ghana Report.
The 'Ku Me Preko Reloaded' demonstration is scheduled to start at 7 am at the Obra Spot at the Kwame Nkrumah Circle.
This comes at a time when the country's economic downturn has brought what many have described as immense hardship to the citizenry.
Ghana's economy is on its knees, with an inflation of 37.2% as of September 2022 and a depreciated currency.
This has led some individuals and groups, including the Majority Caucus in Parliament, to call for the removal of the Finance Minister, Ken Ofori-Atta.
They have blamed Mr Ofori-Atta for overseeing the continuous depreciation of the cedi and the dwindling fortunes of the economy.
Meanwhile, in an address to the nation on Sunday, October 30, 2022, President Akufo-Addo admitted that "we are in a crisis. I do not exaggerate when I say so".
He said he could not "find an example in history when so many malevolent forces have come together at the same time".
"But, as we have shown in other circumstances, we shall turn this crisis into an opportunity to resolve not just the short-term, urgent problems but the long-term structural problems that have bedevilled our economy," he assured.