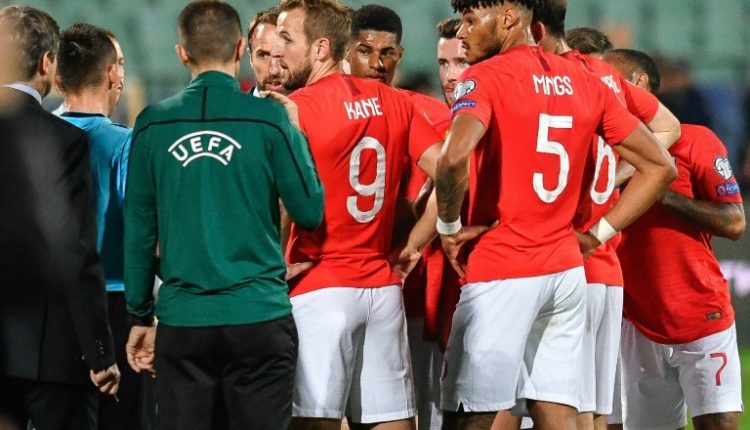 The "football family and governments" need to "wage war on the racists", says Uefa president Aleksander Ceferin after the abuse of England players by home fans in Bulgaria.
Monday's Euro 2020 qualifier between the sides was halted twice due to racist abuse of England players.
Ceferin said football associations cannot solve the issues alone.
"Only by working together in the name of decency and honour will we make progress," he said.
European football's governing body Uefa has opened disciplinary proceedings against Bulgaria, charging them with the racist behaviour, including Nazi salutes and monkey chants, of their fans.
The disruption of both teams' national anthems by opposing fans will also be investigated.
Monday night's scenes have been widely condemned by players and politicians.
The president of the Bulgaria Football Union resigned on Tuesday after being told to quit by the country's prime minister.
In a statement, Ceferin said Uefa was committed to doing everything it can "to eliminate this disease from football".
"There were times, not long ago, when the football family thought that the scourge of racism was a distant memory," Ceferin said.
"The last couple of years have taught us that such thinking was, at best, complacent.
"The rise of nationalism across the continent has fuelled some unacceptable behaviour and some have taken it upon themselves to think that a football crowd is the right place to give voice to their appalling views."
Football's world governing body Fifa said going forward it could "extend worldwide" any sanctions by Uefa, or by the other continental confederations, imposed for racist behaviour.
President Gianni Infantino said the sport needed "to think more broadly on what we can do to fix this".
He called racism in football an "obnoxious disease that seems to be getting even worse in some parts of the world" and said life bans from stadiums should be handed to those found guilty. "Fifa can then enforce such bans at a worldwide level."
The British government said it would write to Uefa to demand more action.