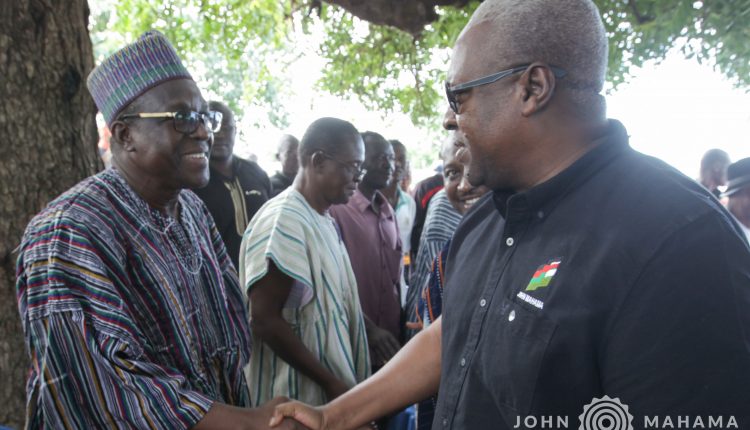 Former President Mahama mourns with Alban Bagbin
Former President John Mahama Sunday morning joined hundreds of sympathizers to mourn with the Second deputy speaker of Parliament, Alban Bagbin at Sombo in the Nadowli District of Upper West Region.
Mr Bagbin has lost a brother, Luke Baziing Bagbin, who passed away at age 49.
Mr Mahama and his campaign team is in the region to canvas support for his re-election to lead the National Democratic Congress (NDC) as its flag-bearer in the 2020 general elections, which Mr Bagbin has also shown interest.
Mr Bagbin has been critical on Mr Mahama ever since he (Mr Bagbin) declared his interest in the flag-bear position of the party.
It was a rare scene in recent times to see President Mahama and Mr Bagbin in a warm handshake ever since their separate declarations of intent to lead the NDC into the 2020 general elections.
The two politicians exchanged friendly languages in respect for the occasion, and in a tribute to their long-standing relationship as co-parliamentarians on the NDC side, Mr. Bagbin introduced his wife to the former president.
Mr Mahama was accompanied by former ambassador to the US Daniel Ohene Agyekum, former chief of staff Julius Debrah, Member of Parliament for Wa Rashid Pelpuo, party regional executives, and party stalwarts.
source: Graphic Online