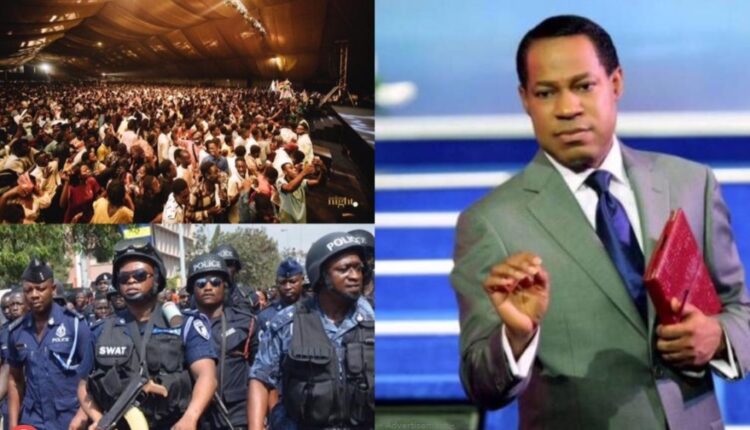 Four Members Of Christ Embassy Charged For Breaching Covid-19 Protocols
The Criminal Investigations Department (CID) of the Ghana Police service has charged four members of the Christ Embassy Church for flouting covid-19 protocols at an event dubbed 'Pneumatica Night'.
The charges levelled against them include failure to comply with restrictions contrary to Regulation 4 of the Imposition of Restrictions (coronavirus disease (Covid-19) pandemic), 2020 Executive Instrument (E.I.) 395 and Section 6 of the imposition of the restriction Act, 2020 (Act 1012).
The church, noted for its COVID-19 conspiracies, held a service dubbed  "Pneumatic Night", with large crowds in attendance on Friday, April 30, 2021.
The police were compelled to open investigations into the circumstances under which the church decided to breach covid-19 protocols.
Churches are permitted to hold services up to two hours under laid down COVID-19 protocols, including social distancing, wearing masks, handwashing and provision of hand sanitisers.
But these were absent as large crowds gathered at the Fantasy Dome at the Trade Fair Centre in Accra.
Christ Embassy fined £125,000
Founded by Lagos-based megachurch pastor Christian Oyakhilome, UK regulator Ofcom fined the church £125,000 in March 2021.
The LoveWorld Television Ministry of the church was found aired "inaccurate and potentially harmful claims about coronavirus".
Loveworld Television Network was found to have made the violation back in January after a 29-hour show titled The Global Day of Prayer featured sermons with "potentially harmful" claims about Covid-19 – including that the virus was "planned" and created by the "deep state", and vaccines were a "sinister" means of administering "nanochips" to control people.
This was the second time they had an encounter with the law as they had also made false claims linking coronavirus to 5G technology in April 2020.