GES Reschedules Reopening Date For SHS 1 Students
The Ghana Education Service has scheduled the re-opening of schools for first-year senior high school students for Thursday, March 18 through to Sunday, March 21.
A statement signed by the Head of the Public Relations Unit, said the change of date is to enable students and parents to have ample time to prepare for school and allow students with self-placement issues, time to complete the process.
The statement further indicated that this decision factors those prospective students who have not been enrolled to any of the Senior High Schools to use the extension period to select a school of their choice after it noticed not all students have been enrolled.
"Management has also noted that some students have not yet enrolled and the extension will give these students the opportunity to do so as well".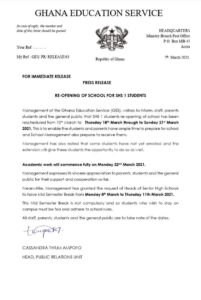 The Ghana Education service is also urging parents to ensure that their children adhere strictly to the covid-19 protocols.