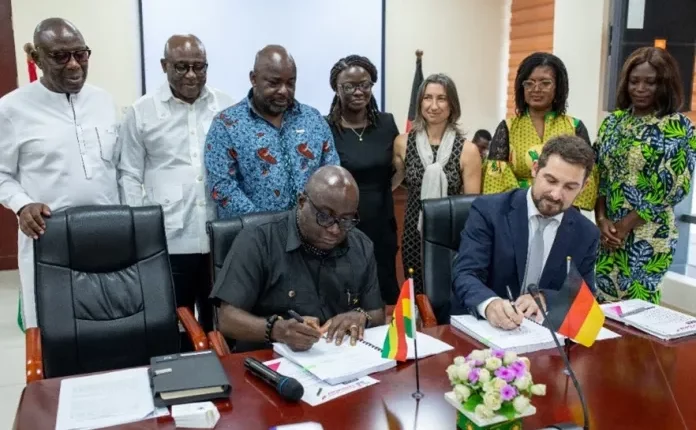 GFZA secures over €1.7m IFE grant for water storage facility at Tema enclave
Ghana Free Zones Authority (GFZA) and Investing for Employment (IFE) have reached an agreement over a €1.7million (€1,675,509) grant for the former to construct a new water storage facility within the Tema Free Zone enclave.
The water storage facility aims to address inadequate water supply within the Tema Exports Processing Zone (TEPZ). The facility to be constructed comprises a 6,800 m³ or 1.5 million gallons underground tank and a 2,273 m³ overhead tank plus a pumping station.
This project seeks to enhance the water and sewage system in TEPZ to meet current water demand of 7,512m³/day for the 91 licenced and non-licenced industrial companies located in the industrial park.
This new development between the IFE and GFZA was made known by the Chief Executive Officer (CEO) of GFZA, Michael Oquaye Jnr, during the IFE grant-signing ceremony in Accra.
The project's total volume is 1,841,677 m³, and the IFE is committed to contributing 90 percent of the investment amounting to €1.7million while the GFZA covers the investment's remaining 10 percent – €184,168.
Per a study by GFZA, the current water demand for 91 companies operating within the enclave is about 1.6 million gallons or 6,800m³, with a daily need of 7,500. According to Mr. Oquaye, the enclave has a demand and supply gap of some 754,000 or 3,000 m³ per day.
He noted that in augmenting the shortfall of water supply, companies are compelled to buy water at exorbitant prices – leading to high cost of production, which tends to stifle expansion and affect job creation.
"Sometimes the companies are forced to purchase water from unreliable tanker operators; in effect, unhygienic or dirty water – often at an exorbitant price, and this current shortfall has led to higher production costs."
Upon completion of the project, Mr. Oquaye said the GFZA will be able to break the current demand-supply gap, leading to lower cost of production; which will tend to increase expansion and positively affect output.
He added that a projected 1,500 new direct and indirect jobs will also be created as a result of the new water facility.
So far, a project management committee, including a technical team, has been constituted to ensure timely completion of the project.
Highlighting the project's significance, Managing Director-IFE, Steffen Kuhl, noted that: "Water in a multi-purpose export-oriented industrial zone is of utmost importance," adding that the institution hopes to undertake a total of nine projects in the country amounting to over €50million.
"We just started with the development. By the end of next year, we will see proposed projects of more than €50-million in the country totalling nine," he said.
For his part, Deputy Minister of Trade and Industry, Michael Okyere Baafi, lauded the efforts and commended IFE for their kind gesture; assuring them of government's commitment to ensuring a successful implementation.
"We don't take this kind gesture for granted at all. This is a very important institution, and you will see it all when you go to the enclave. The good news is that your name will be boldly written in the annals of free zones – that IFE once supported this institution to construct this important facility. We are so grateful to you," he said.
The signing ceremony between the two institutions was followed by a ground-breaking ceremony at the Tema enclave.