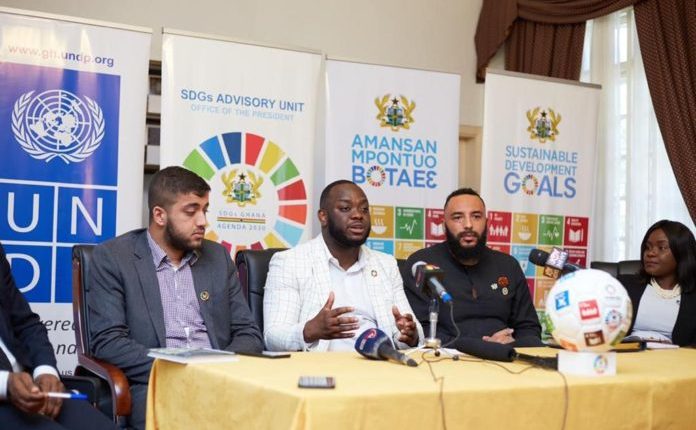 Ghana to host maiden SDG Youth Summit
Ghana is set to host the maiden Sustainable Development Goal (SDG) youth summit next month, aimed at finding practical ways to execute the SDG goals.
The summit being organized by Reset Global in partnership with the UNDP and over 1,000 youth worldwide are expected to converge in Ghana for the maiden event.
The three-day Summit which is scheduled to kick start on November 24 at Bank of Ghana auditorium of the University of Ghana.
The Summit will consist of peer-learning workshops, innovation fairs, hackathorn and an open space for young people to Co-Create SDGs solutions.
There will also be a high-level plenary on resourcing youth development in Africa, Inter-generational dialogue on youth, partners' aide events, exhibitions, a concert and other activities lined up for the summit.
Speaking at the media launch of the event in Accra, Founder, Reset Global People, Kwame A. A. Opoku, said of the 1000 plus participants expected, more than 70 per cent of them would be youth and 10 per cent being people living with disabilities (PWDs).
He said pre-conference registration would be opened online from Monday, November 4, on their website: www.resetglobal.com.
The first two-days of the conference would be held at the Bank of Ghana Auditorium, University of Ghana, adding that on day three, they would be having a women-focused conversation on how to address gender-based violence.
Mr. Opoku said during the summit the organisers, in collaboration with Busy Internet, would hold a hackathorn competition where nine teams would be taking part.
Mr. Opoku further urged all media partners to push the SDGs agenda for the participation and involvement of all.
Emphasizing on the need for the summit, Dr Louise Carol Serwaa Donkor, the Policy and Communications Analyst, SDGs Advisory Unit, Office of the President, said the President's focus had largely been on innovative financing of women, the youth and also on entrepreneurship.
"So, once it comes to innovative financing and entrepreneurship, and innovative entrepreneurship, a lot of the time that will genuinely intercept with women and the youth (gender)."
She said a number of programmes had been initiated by the Government since 2017 to support a number of youth organisations on SDGs related activities.