Ghanaian family in Italy shares coronavirus horrors and fears
"My daughter is always crying pointing her fingers at the door, but I will be standing there helpless. This is horror. You hear ambulances and every 10 minutes, helicopters. It is not easy. Freedom is really precious."
That is the struggle of the mother of a toddler whose family, like many others in northern Italy, has been under lockdown for almost two months.
Inside a quiet house on the empty Zezio Street in the Northern Italian City of Como, the toddler has feet out on the porch, the other inside the hall where her family screams "stop" in unison.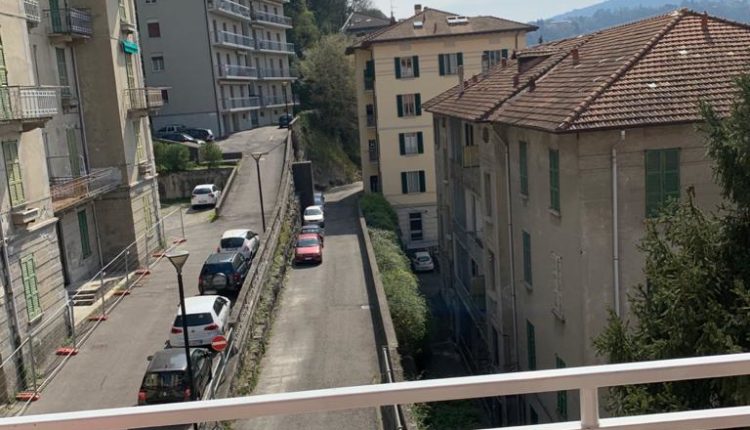 The scream was not to prevent the bubbly toddler from another episode of self-harm but to keep her indoors on the orders of the Italian government, which has quarantined millions of its people as coronavirus ran amok in the country, killing thousands of people.
Moments later, she runs to a window, taking a long stare at the empty streets that some weeks ago were full of buzz and life.
The porch, overlooking the mountainous Italian city in the Lombardia Region, is the family's favourite spot for watching the sunrise and setting.
On the days before the lockdown, little Sherifa would have been running and burning her energy on the porch.
But that has to be stopped as the family stays indoors in compliance with the directive.
Little Sherifa's grandmother and the Ankobiahemaa of Dormaa Ahenkro, Nana Akosua Pomaah  Nhyiraah I, recalled how frequently, she had worn her jacket to step out only to realise that she wasn't supposed to go out.
"I just slump in a sofa. For now, my granddaughter is our only source of entertainment. She'll love to go out and play outside, but we are not in ordinary times, so we just do whatever is possible to console her," Nana Pomaah, who is also the Vice President of the Oman Ghana Baako, a Ghanaian diaspora group, said.
There are heavy penalties to pay for breaking the lockdown rules. In Italy, which is the COVID-19 worst-affected country in the EU, people who violate the tough restrictions  pay up to 5 000 euros in hefty fines.
Outside the deserted streets, ambulances race to and from hospitals picking hundreds of people infected with coronavirus, which is stretching the region's healthcare system known as 'the Pearl of the Italian healthcare system'.
By 6 pm, every night, the family pile in front of the television for the news, mostly filled with the grim updates of deaths and the increasing number of infections.
The little girl's mother, Tatiana, told theghanareport.com that the family lives every day in search of good news in the midst of the chaos.
"It is not easy. You wake up in the morning and all you can think of is this virus. You take your phone hoping to get some good news but still nothing. All you can do is look outside the window and pray to God to give a miracle.
"It is really stressful. People are committing suicide because they lost their parents. I'm always panicking and afraid of how these old people are dying and falling down like leaves. Fear is the big deal now".
More than 23,000 people have died in Italy as of Friday, April 17.
With more than six weeks locked in a house, their lives have been altered with a routine synonymous with boredom—wake up, eat, watch television. It's an isolation that they cannot endure for more than a week, even on a vacation to their dream holiday destination.
Occasionally,  members of the family go out to buy groceries, while the rest are stuck indoors for fear of a government crackdown that has seen many slapped with hefty fines for violating lockdown rules.
Under initial lockdown rules, schools, universities, theatres, cinemas, bars and nightclubs were closed in Italy's north. Religious ceremonies, including funerals and weddings, and sporting events were suspended or postponed. Restaurants and bars were allowed to open from 6am to 6pm, and malls and markets could open on weekdays if they could assure a meter (three feet) of distance between each client. But as the disease tightened its hold on the country, those services were also shut down with supermarkets kept open under strict regulations.
Although she doesn't know anyone who has fallen to the disease, she said she lived under constant fear, with panic attacks.
Her antidote has always been to "try to listen to music to release the stress."
Such has become the fear that Tatiana said a cough outside is a luxury in a country that exports its cafeteria of pizzas and cappuccinos to the rest of the world.
"Hearing someone cough, [you feel] like beating that person. My fiancé is a footballer locked down in Firenze. He's alone, and he had a panic attack and had to call the ambulance. He thought he had a heart attack, but fortunately, he's okay and has tested negative for the virus. Even having the idea of being tested is like hell.  There's a saying if anyone wants to get ill he or she should wait till 'further notice'.. that's the situation here," she said.
When China's city of Wuhan was bogged down with what will later be known as COVID-19, the rest of the world watched on with little attention as the Chinese became a butt of jokes for eating anything that moved. That was the attitude of many Italians to the coronavirus, even when their country recorded cases.
"We thought China was far from here. Because we taught it was only for Chinese. But this virus has taught us that there're no boundaries in such situations. The virus has been around, but wasn't taken seriously and that made a lot of doctors get infected.
"When we had the first cases in which they were Chinese tourists, nothing alarmed us, but when a 38-year-old Italian man got infected with his family that made everyone panic and the government started moving.
"But it was already in the system. We are registering a lot of deaths although Italians have the best healthcare system and [people] even the old grow old with chronic diseases. This virus is only contributing to making them weaker and then die at the end. Italy has a lot of old people. A lot of Italians are positive because they travel a lot and the virus too travelled with them," she said of the catastrophe that has swept thousands of the aged.
With Ghana's case count shooting up to 834 as of April 18, up from just two on March 12, Tatiana advised Ghanaians to adhere to all the precautionary measures the government had rolled out.
"It is very important for them to wash their hands very well and avoid crowded places. The virus is very real and not a joke. When you get infected, you just don't know if you [are] going to make it or not. So you will have to salute your loved ones then the rest is in God's hands. They shouldn't joke about it. Watching it on TV seems to be like a movie, but those living in the movie are advising everyone to be careful. It can be controlled," she said.