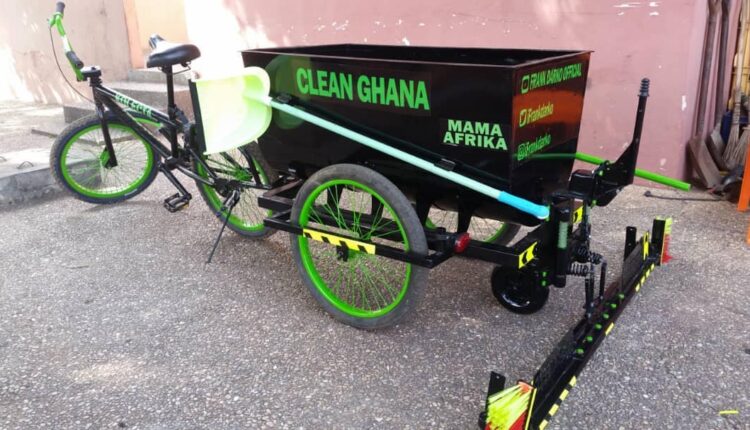 Ghanaian innovator invents sweeping bicycle
A Ghanaian multi-talented engineer, Frank Darko, who is popularly known for his invention of the bicycle that walks on water, has come out with another invention.
This time, it is a tricycle that makes sweeping convenient.
The Takoradi-based inventor says he was inspired by the indiscriminate littering, among even educated people, to find a cost-effective and efficient machine, which he calls the "sweeping tricycle "to help deal with the problem.
"The littering is too much. Even today graduates have joined in littering the environment. As a good citizen, I have to do something to help stop the dark future that is hanging upon us," he said in an interview.
With drains in Accra persistently clogged while refuse piles in parts of the city, he said his invention is meant to help deal with the perennial problem.
"Sometimes when I get to certain places within Accra, a big example is the big canal which leads the Odorna River into the sea. Anytime I get to a place like that my eyes get filled with tears because of what I envisage to happen in the future
"In my vision I see the Canal being used as a walking path because it is finally choked up with sand and plastic waste. Vehicles could even pass over it. The sad part is how people will lose their homes and lives during a heavy downpour.
" I have always had the nation in my heart. I use my energy to think about how to make Ghana a better place to live like other developed countries. My current project is a street cleaning machine in the form of a tricycle", he said.
Going into the purpose of the machine, he said, "With this machine, our streets and environment can be kept tidy always. It is fuel-free and maintenance-free. I spent five months to complete one because I lack a working environment, tools and machines. But I believe in God that things will change for the better."
Fred Darko, who is currently on a full scholarship at the Takoradi Technical University expressed appreciation to Dr Phyllis Hendrichs, Kakra McHammah, the Chief Executive Officer of Muhammad Engineering Company; and the President of CILT Ghana, Ebo Hammond, for the immense contributions they have made in his life.
He gained the full scholarship after his invention of the bicycle that walks on water caught national attention and was also featured in a BBC documentary as well.