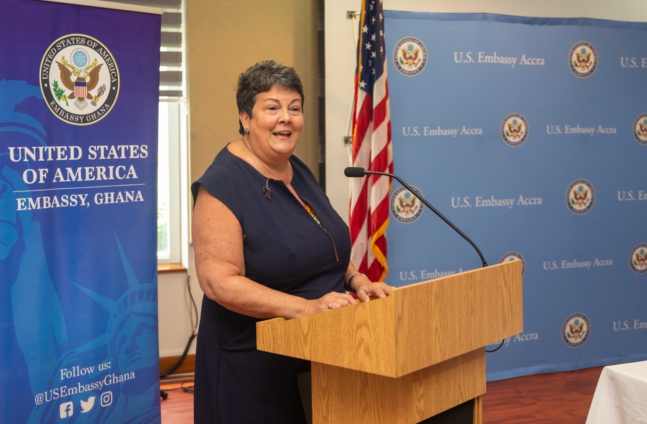 Ghanaian Products Risk Blacklisting In US If Anti-LGBTQ+ Bill Is Passed – US Ambassador
The US Ambassador to Ghana, Virginia Palmer, has warned of potential black-listing and ban on Ghanaian products in the United States market if the anti-LGBTQ+ bill in its current form is passed by parliament.
She insists the bill is hostile and discriminatory and undermines the rights of people who promote, practice and associate with the LGBTQI community.
Speaking at the American Chamber of Commerce Ghana (AmCham) Thanksgiving Dinner and Awards Night over the weekend, Ms Palmer said it would be hard for her to sell Ghana as an investment destination if the bill is passed.
"Ghana's parliament is considering a bill that will curtail the human rights of the LGBTQ community, their family, allies and quite frankly, all Ghanaians.
"The reality is the bill undermines basic free speech rights the Ghanaians otherwise enjoy. The goal of the bill is to make Ghana hostile not only to LGBTQ people but to anyone who even sympathises with them. It seeks to make illegal all discussions and all media that even mention LGBTQ issues. So journalists would be arrested, landlords would be arrested, and mothers and fathers could be arrested.
"If passed, the bill will not only make it harder for you to recruit and hire the best people from overseas but will marginalise the educated and hardworking Ghanaians by making it clear that they are unwelcome.
"I have no doubt that such legislation will have a souring effect on Ghana as an investment destination. It will make it harder for me to sell Ghana as an investment and trade destination," she added.
The anti-LGBTQI bill, also known as the Proper Human Sexual Rights and Ghanaian Family Values Bill (2021), sponsored by the Member of Parliament (MP) for Ningo-Prampram, Sam Nartey George and seven other MPs, is currently under consideration by parliament.
The bill seeks to criminalise activities of persons who hold out as lesbians, gay, transgender, transsexual or queer persons who hold divergent socio-cultural notions of sex, persons involved in the promotion of or advocacy and funding for lesbian, gay, bisexual, transgender and queer related activities, as well as persons who conduct surgical procedures to reassign an individual's gender except for medical purposes.
The anti-LGBTQI Bill further imposes a duty on citizens and relevant independent constitutional bodies to promote and protect proper human sexual rights and Ghanaian family values.
The bill also makes any union or marriage entered into by persons of the same sex and persons who have undergone gender or sex reassignment void.