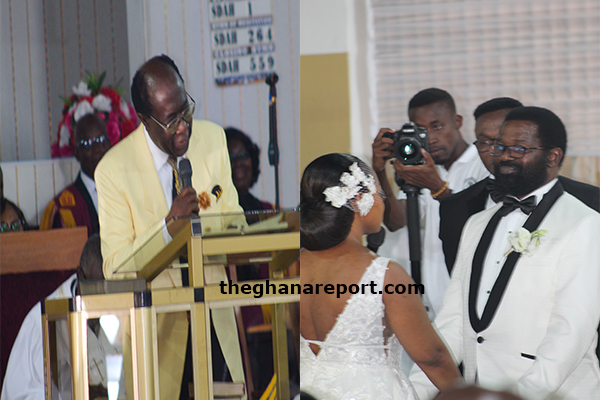 Give your phone's password to your wife – Pastor advises Oko Vanderpuije at wedding ceremony
A pastor has handed Ablekuma South NDC MP Alfred Oko Vanderpuije some controversial marriage lessons at his wedding ceremony held in Accra last Saturday.
The reverend minister of the Seventh Day Adventist church and the officiating minister, Pastor (Dr.) Divine Ayivor, urged the politician to give his phone's password to his new bride, Cynthia.
It was an advice which drew some gasp from the congregation.
The pastor said it is okay for the wife to also pick her husband's phone calls when he was not immediately available.
Pastor (Dr.) Divine Ayivor also told the bride to expect difficulties in having unfettered access to her husband, explaining 'he is not yours alone'.
Alfred Oko Vanderpuije was Accra former Mayor and also represents his constituency which has more than 110,000 voters.  The pastor said the couple could agree on a particular time of the week to spend quality time together.
'It could be Thursday, 6pm to midnight', the Reverend Minister said in jest.
About 45 minutes after his advice to Oko Vanderpuije to give his phone's password to his wife, Asawase NDC MP and Minority Chief Whip Muntaka Mohammed expressed misgivings.
Taking the microphone to introduce a horde of MPs who attended the ceremony, Muntaka Mohammed said Cynthia Vanderpuije  should avoid nosing around his husband's phone.
He said it is a good way to preserve her health as a politician's wife. His advice was not without a laughter.
Photos: Oko Vanderpuye votes 'Yes I do' at his own 'referendum'