Global applause for President Akufo-Addo's coronavirus message
Ghanaians may be divided over President Nana Akufo-Addo's drastic measures to curb the spread of coronavirus in Ghana, but an aspect of his last speech is resonating around the world.
The President last Friday partially locked down parts of the Greater Accra Region, the Kumasi metropolis and Kasoa in the Central Region.
It was a message that kept the country's essential services opened and made thousands of people flee the lockdown cities.
But across the world, the President is being congratulated for a quote in his message that reads:
"We [government] know how to bring the economy back to life. What we do not know is how to bring people back to life," the President had said.
This simple but powerful quote has gone viral on the international scene, earning President Akufo-Addo a lot of commendations for his wits and leadership.
In a tweet directed to the President, popular UK-based TV host, Piers Morgan, on his daily show, Good Morning Britain on ITV, noted that the scare facing the world required "you [leaders] you [got to] have a simple message to get through to people.
Reading Akufo-Addo's message: "We know how to bring the economy back to life. What we do not know is how to bring people back to life," Morgan said, "that to me is what we talking about."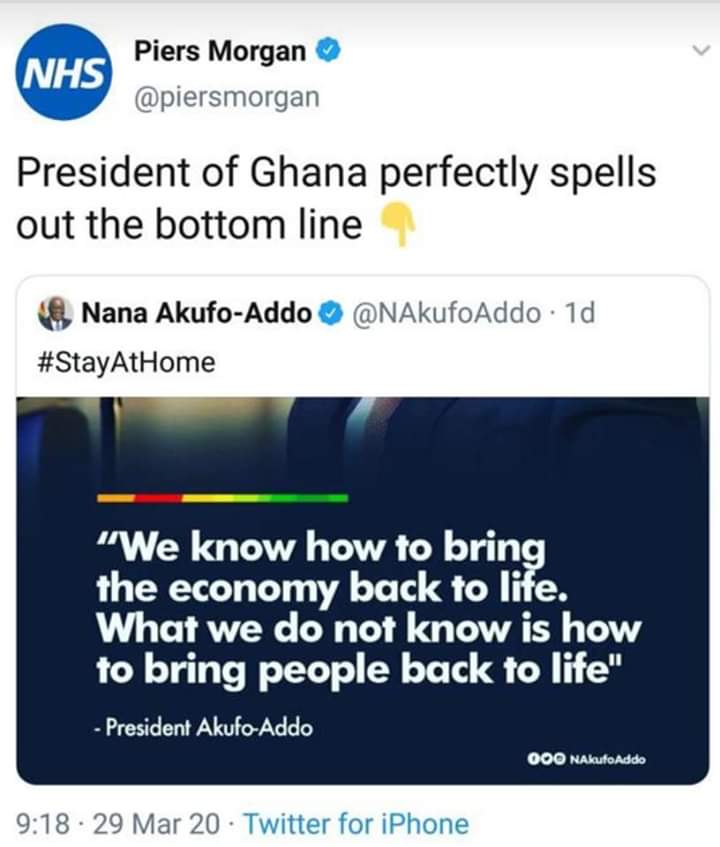 The Director General of World Health Organisation (WHO), Tedros Adhanom Ghebreyesus, led international eulogies for President Akufo-Addo, describing the quote as "powerful".
"Thank you for sending such a powerful message to the world, my brother @NAkufoAddo, President of #Ghana. Together, for a healthier, safer, fairer world! Together against #COVID19!," the WHO Director General wrote on his twitter page.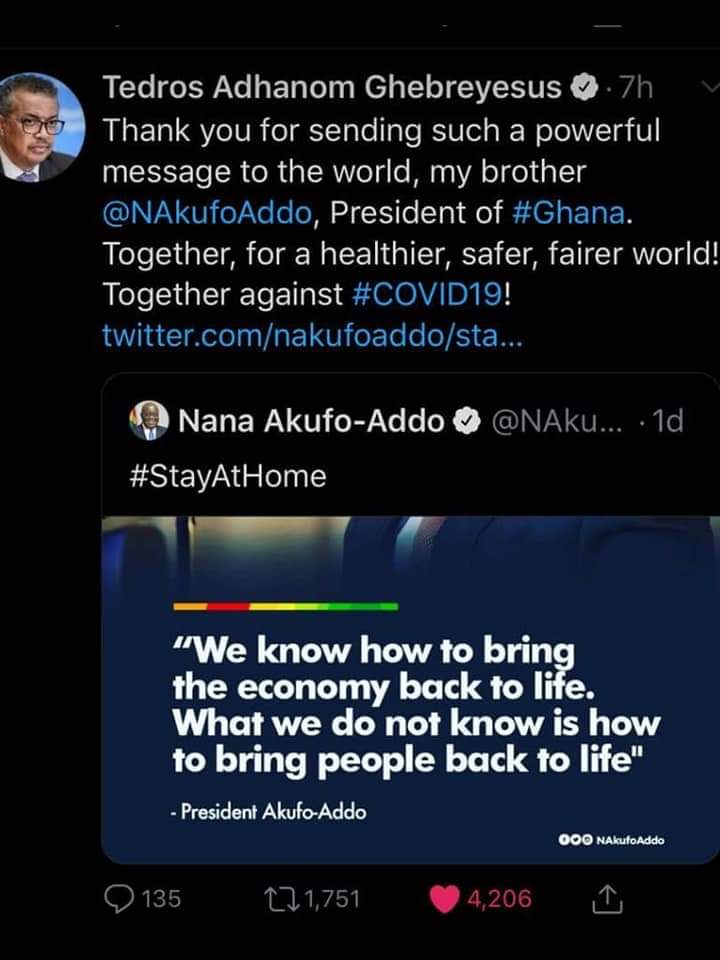 The Chairperson of Global Public Health, Devi Sridhar, also commended President Akufo-Addo for showing leadership.
She posted a picture of the President's quote on her twitter handle and added the comment: "President of Ghana #leadership."
German science journalist, Kai Hubferschmidt, also quoted President Akufo-Addo's message on Twitter and added: "Ghana's President Nana Akufo-Addo with admirably clear messaging on #covid19 and economy. Plenty to learn from everywhere in the world if we listen. We're in this together."
Check out other tweets below.