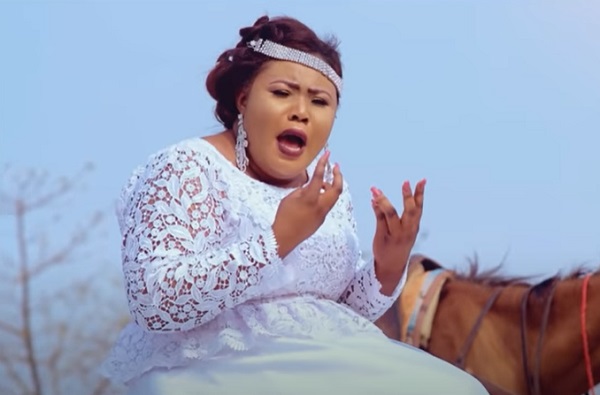 Gospel musician Ohemaa Jacky remanded into police custody for fraud
An Accra Circuit Court has remanded into police custody a Ghanaian gospel musician, Jacklin Sarfo Gyamfua, for engaging in fraudulent activities.
The artiste, popularly called Ohemaa Jacky and best known for her 'Hakuna Matata' song is alleged to have defrauded a trader of GH₵150,000 under the pretext of securing her an Italian passport and resident identity cards.
The accused person who doubles as a blogger is also said to have forged two Italian passports for the trader and her infant daughter.
She has been slapped with two counts of defrauding by false pretence and forgery, charges she pleaded not guilty to.
The facts presented in court were that in February this year, the complainant and a witness in the case spotted the musician running adverts on social media platforms, purporting to be securing travelling passports and resident identity cards of every country within the European Union at a fee.
The trader who is the complainant in the case is said to have expressed interest in travelling to Italy and contacted the accused Ohemaa Jacky through her Facebook advertisement.
The musician then promised to secure two Italian passports and two Italian resident identity cards for the complainant and her infant daughter at a fee of €24,000.
The accused further gave her bank account number bearing the name of one Afuah Serwaa Dwamena and another Bank account bearing the name of Lord Mens Enterprise.
Ohemaa Jacky then requested the complainant to pay the demanded fee of €24,000 into any of the above-mentioned accounts.
The complainant accordingly deposited various sums amounting to €21,000 into the accounts provided by the accused.
The musician later provided two forged Italian passports and two forged Italian Resident Identity Cards for the complainant and her infant daughter.
On March 30, 2021, the complainant is said to have presented the Italian passports at the Kotoka International Airport to travel outside the country and was apprehended on the basis that the passports presented were fake.
A complaint was lodged to the police leading to the gospel musician's arrest on September 8.
A search conducted in the home of Ohemaa Jacky revealed the two forged Italian passports and the forged Italian resident identity cards.
Investigations are currently ongoing to ascertain the authenticity of the passports and the resident identity cards.
Meanwhile, the accused and her husband, according to the prosecution have issued stern verbal warnings to both the complainant and the principal witness in the case to stay off the case else they risk being dealt with.
The case continues on September 16 this year.