Govt imposes total ban on rosewood export
The government has completely banned the export of rosewood from the country.
The ban is a measure taken by the government to stop illicit harvesting, transporting, processing, trading and exporting of rosewood and control its exploitation.
It was announced by the Minister for Lands and Natural Resources, Samuel Abu Jinapor, in a statement cited by The Ghana Report.
The minister has therefore directed that henceforth, all confiscated rosewood be auctioned only to the domestic market.
Further to this directive, no person who acquires rosewood at such an auction would be permitted to export it outside the country.
Accordingly, the minister has charged the Forestry Commission to cease the issuance of the convention on international trade in endangered species (CITES) permits for the exportation of rosewood.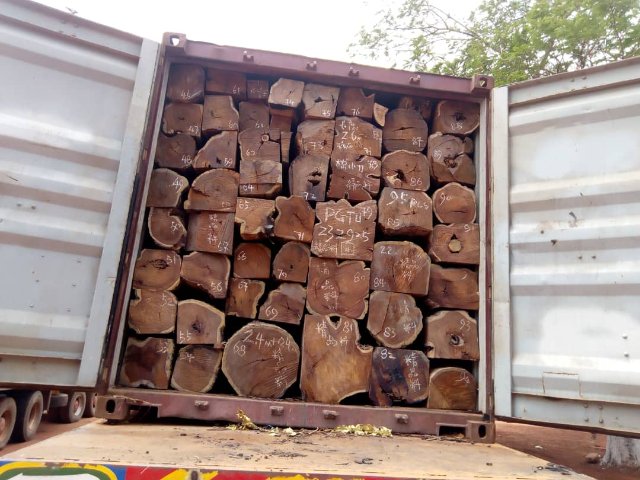 Mr Jinapor said his ministry had taken the appropriate measures together with relevant authorities to end cartels' operations that engage in the illicit trade.
He noted that the Lands Ministry was doing so because, it is "responsible for ensuring the sustainable management and efficient and effective utilisation of the nation's lands, forests, wildlife, and other natural resources for the socio-economic growth and development of the country."
READ ALSO: Seven Containers Of Rosewood Impounded In Less Than Two Weeks
In the last two weeks alone, seven huge consignments of rosewood have been impounded in separate operations in the country.
First, five containers carrying several logs of the endangered rosewood species were also seized at the Tema Port on June 17.
The Savannah Regional Taskforce Against Rosewood Trade also seized two trucks on Sunday, June 28, 2021, at Damongo.
Ban on rosewood
In 2013, the government banned harvesting, transportation and export of rosewood, which lasted until 2018.
In 2018, the ban was been made indefinite, to halt the illegal trade of the endangered tree species.
Announcing the extension of the ban, the then Minister for Lands and Natural Resources, Mr Kwaku Asomah-Cheremeh asked the Forestry Directorate to collaborate to fight the illegal trade.