Audio: Gov't not responsible for promoting local rice – Dep. Agric minister
The Deputy Minister for Food and Agriculture, Kennedy Osei Nyarko says the government is not responsible for promoting local rice consumption.
"The marketing and the promotion aspect of Ghana rice is not the responsibility of the government to go and start running radio or TV adverts promoting this kind of rice for the producers," he said in an interview on Accra based Starr FM monitored by theghanareport.com
He was speaking on a viral social media campaign for local rice consumption sparked by the Managing Director of Accra-based radio station Citi FM, Samuel Attah-Mensah.
…. And all the companies that advertise imported Rice on Citi FM withdrew their ads and cancelled the contracts. Big deal? Ghana wins! 🙏

— Sam Attah-Mensah (@Sammens) November 21, 2019

Photo: Sam Attah-Mensah 
My 4-Point Rice Proposals

1. All School Feeding Program contractors must use local rice.

2. All public secondary schools must use local rice.

3. Rice served at all government events must be local local rice.

4. WAIT FOR THIS: 'As for me and my house we shall eat local rice

— Kojo Anan Ankomah (@Kojoanan) November 21, 2019

Ghana spent $1.1billion on importing rice in 2018, almost two percent of the country's GDP in 2018, according to the Trade Ministry.
Rice takes up 82% of all importation, a business habit which experts say plays a part in the cedi's depreciation.
The government has said a 2020 target to ban the importation of rice and a 2019 target to halve this importation.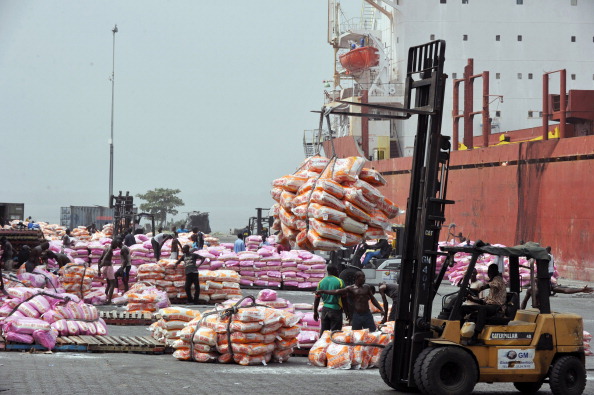 The Deputy Food and Agriculture Minister says the responsibility for the promotion of local rice consumption lies in the bosom of the processing companies.
"It is their own responsibility. The government can only come in and create awareness" he stressed.
"The first to start with is making the public know which ones are the Ghanaian local brands. And when you are advertising, you need to emphasize on the benefit that the consumer will derive from whatever product you are selling."
Osei Nyarko expressed concern that local rice processing companies are not doing enough to cash in on the social campaign by stepping up the marketing of their brands.
"If you have local rice that the starch content is very low compared to the one we import, it tells you that on the health aspect, there are a lot of nutritional value that one can get from it" he pointed out a selling point for local rice.
The Deputy Food and Agriculture Minister wants local rice businesses and companies to provide sufficient details about their products in order not to confuse consumers on the market.
"If you don't give details then it means you are not helping the consumer. So the consumer goes to the market, he is faced with what he can see around."