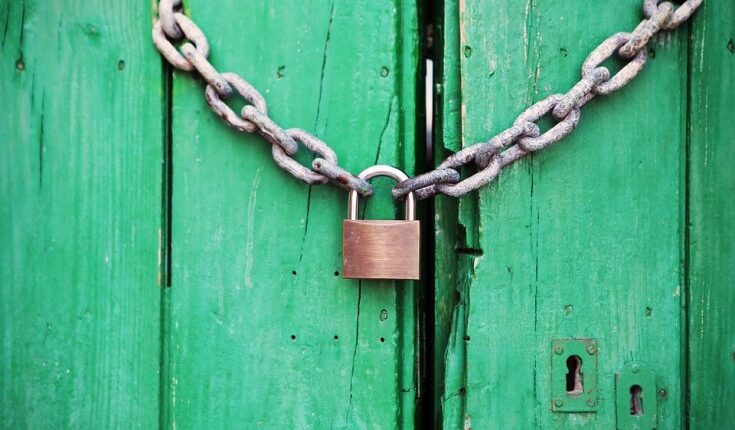 Gov't shuts over 50 shops at Circle as Nigerians fight back
Nearly 50 shops without licenses owned by foreigners have been shut at the Kwame Nkrumah Interchange business enclave by government officials.
This marks a fresh round of closures on Thursday, August 13, after series of such exercises by the Ghana Union of Traders' Associations (GUTA) in the past months.
However, it is the Presidential Committee on Retail Trade under the Ministry of Trade and Industry that is conducting this exercise.
They were accompanied by heavily armed police and other security officials who visited shops on that stretch to verify operating documents of the shop's owners.
The committee had announced the closures days ahead with notices that similar exercise will take place at Opera Square, Zongo Lane, Kantamanto, UTC and Kumasi in the coming days.
However, some of the Nigerians have expressed frustrations by indicating that they are being treated unfairly.
They argue that being part of ECOWAS, the regional bloc permits trading across member states.
They argue that Ghanaians were operating retail businesses in Nigeria without the incessant harassment they face.
But officials have referred the illegal retailers to the Ghana Investment Promotion Centre (GIPC) Act which protects Ghanaian traders.
Under the new GIPC Act, 2013 (Act 865), all enterprises in the country with foreign participation are required to register with the GIPC.
The minimum capital required for retail business has moved from US$300,000 to $1 million, while foreign investors who participate in joint venture enterprises have to show a minimum capital of $200,000 with wholly-owned foreign enterprises showing a minimum capital of $500,000.
Additionally, Section 28(5) of the Act stipulates that the minimum foreign capital requirements to invest in Ghana, including for engaging in trading, do not apply to the foreign spouse of a citizen of Ghana to the extent that the foreign spouse is or has been married to a citizen of Ghana for a minimum period of five years continuously or holds an indefinite resident permit prior to registration of an enterprise, amongst others.
Abossey Okai shutdowns
Less than a month before this exercise, the Abossey Okai Spare Parts Dealers Association vowed to kick out all illegal foreign retailers within the enclave as they shut close to 200 shops.
The Chairman of the Association, Siaw Ampadu, told theghanareport.com that they had lost confidence in the Ghanaian authorities in resolving retail business, which had persisted for decades.
Mr Ampadu said this was not being implemented and foreigners had moved into areas reserved for Ghanaians.
GUTA closes Nigerian shops
GUTA has been locking up shops of Nigerians in the last few years in demand of action by Ghanaian authorities to enforce retail laws.
Foreign shops in Suame, as well as other areas in the Ashanti Region, were shut for weeks in 2019.
Those in Accra, especially in the Kwame Nkrumah Interchange and Tip Toe Lane areas, have also had their share of closures.
Reaction from Nigerian Union of Traders Association Ghana (NUTAG)
NUTAG President, Chukwuemeka Nnaji, had been calling on the government of Ghana to protect its members.
He said they did not have a problem submitting their documents to relevant authorities for authentication to allow them to operate, but the actions of the Ghanaian traders were inappropriate.
He emphasised that under ECOWAS protocols they were permitted to operate in Ghana.