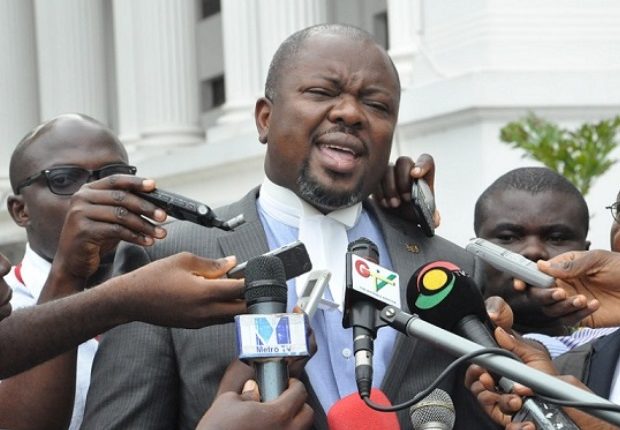 Gov't takeover plot claim a 'set up' – Lawyer
A member of the legal team of the nine persons accused of plotting to destabilize the country has said the case brought against his clients is a complete 'set up'.
The Lawyer, Victor Adawudu said that he is much convinced that the trajectory of events in the ongoing trial does not give credence that, the accused persons had committed any crime and that there was rather a group of persons behind the whole conspiracy.
"Something was found on his compound; does it mean that he put it there? If you look at the sequences where they said they went and tested the gun, who and who went to test the gun?  When were they arrested? If you connect the dot, it comes to a certain conclusion.  With the facts that I have so far if I connect the dots, it comes to the conclusion that this is a setup. "

"So the case against my clients is a setup. If you watch, it has been confirmed by the government that, somebody had infiltrated with social media to have information. There is more. People say, this is a bad case but for me, I am very confident that [it is not].
He also accused officials of the Bureau of National Investigations (BNI) of manhandling his clients, families and lawyers, a situation he expressed worry and described as ill-treatment.
"The civilians are being kept in the custody of the BNI contrary to the order of the court and they are putting impediments on the way of their families and the lawyers to visit and commiserate with them.  But, you go there and the BNI will not allow you. You go and sit there for hours. They toss us all the time and treat us like animals."

"If you look at the kind of treatment they give them [accused], you go in and they are barechested for 24 hours and they only wear their boxer shorts.  Is it right? When somebody is brought on allegation and you want to punish and treat them as if they have been convicted; what happens if they are acquitted and discharged", he said.
Charges
The suspects have been charged with treason felony after being accused of trying to destabilize the country and topple the government.
The nine facing the charge are Dr. Fredrick Mac Palm, Col. Samuel Kodzo Gameli, Geshong Akpa, W.O.2 Esther Doku, Lance Corporal Ali Solomon, Lance Corporal Albert Baba Ibrahim, Lance Corporal Sylvester Akapewon, Bright Alan Debrah and Corporal Seidu Abubakar.
They had initially been charged with possession of explosives, arms and ammunitions without excuse.
All the suspects aside from Dr. Frederick Mac Palm, Donya Kafui and Bright Alan Debrah, who Mr. Adawudu represents, had the weapons charges dropped.
All the accused persons are members of an NGO known as, Take Action Ghana.