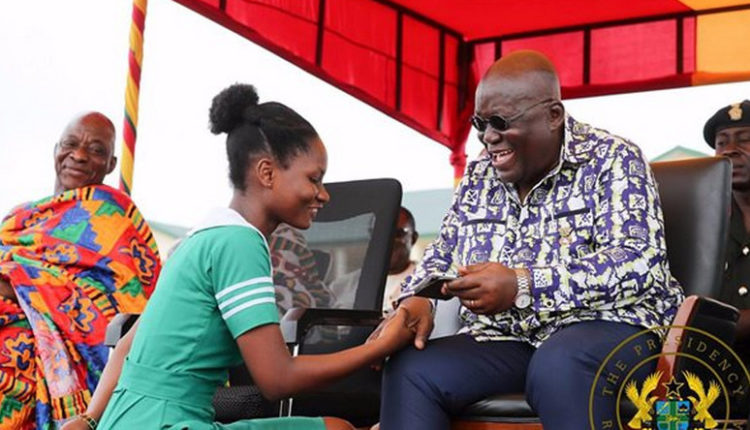 Gov't to define 'frontline worker' soon – Akufo-Addo acknowledges controversy
President Nana Addo Dankwa Akufo-Addo has acknowledged the controversy the term 'frontline health workers' has caused, after government offered to pay them more for their efforts in fighting the deadly coronavirus.
Suppressing a smile, and stifling a laugh, the president said government would soon come out with an operational definition.
"Effort is being made on the part of the government, to arrive at an acceptable definition," he told leaders of the Ghana Registered Nurses and Midwives Association (GRNMA) during a meeting Thursday at the Jubilee House.
The GRNMA have asked for 35% increase in salary for all their members and 50% for critical care staff.
Their proposal came after the president, in his fifth address on the fight against coronavirus, committed the government to a promise that;
"…all frontline health workers will receive an additional allowance of fifty percent (50%) of their basic salary per month, i.e. for March, April, May and June. The March allowance will be paid alongside that of April."
Coronavirus: Akufo-Addo announces three months tax holiday for health workers
Since that address last Sunday, Ghana Registered Nurses and Midwives Association (GRNMA), the Government and Hospital Pharmacists Association (GHOSPA), the Society for private dental and medical practitioners and individuals have demanded inclusion in the list of frontline workers.
They say exclusion could impact morale of health workers and argue, healthcare delivery is a complex network of different professionals all valuable in the service delivery chain.
But to allay the fears of the populace and clear all doubts, President Akufo-Addo said all stakeholders in the health sector are working with government towards a clear definition of who qualifies to be a frontline staff.
Commenting on the issue, in a meeting with leadership of health professionals, President Akufo-Addo reiterated that;
"I think your input will be very necessary and required, so that we get a definition that makes sense for everybody and which addresses the issue of people who are also in the frontline, as it were, of dealing with this disease," he stressed.
He further said that the government is committed to ensuring that all health workers are supported as they deliver essential services in the wake of the outbreak.