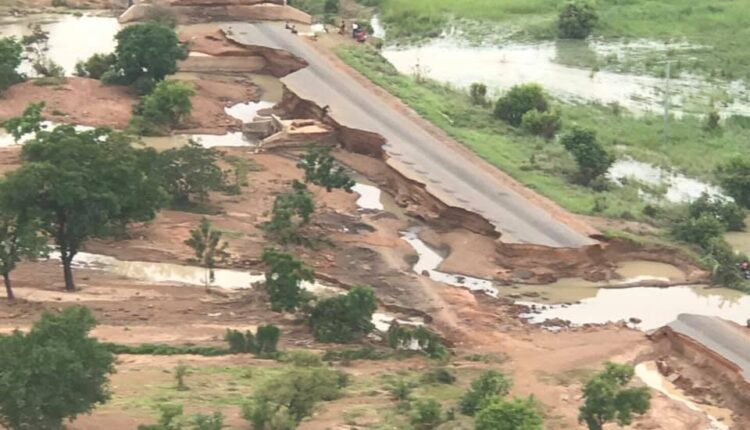 Govt to spend GH₵50m on flood-damaged roads in Upper West
The government has disclosed that an amount of GH₵50 million would be spent to fix the road network destroyed in the Upper West Region following a flood on Thursday, August 12.
The Minister of Roads and Highways, Kwasi Amoako-Attah, made this disclosure at a meeting with some contractors shortlisted to work on the roads.
In all, eight roads would see repair works carried out by four construction firms: P & W Ghanem Limited, Mawums Limited, Maripoma Enterprise Limited, and Ashcal Investment Limited.
These contractors were selected based on "proximity to the affected areas and their ability to mobilise quickly to site," the minister stated in Accra yesterday on August 23.
The contractors would carry out clearing, demolition, earthworks, concrete, pavement, and road surfacing work.
The roads to be repaired include Yiziri, between Nadowli and Yagha; the road between Guoriyiri and Nadowli; the road just before Daffiema on the Sambo-Daffiema road; and the road between Fian and Bussie.
Others are: the road between Serekpere and Guoriyiri; Dapuori, which lies between Nadowli and Jirapa; Duong on the Sambo – Daffiema road; low-lying areas on the gravel road between Fian and Daffiema and the road cut on the gravel road between Daffiema and Nadowli.
"These are heavily trafficked routes, serving as the main routes of transit for heavy-goods vehicles travelling to the Ghana-Burkina-Faso Border," Mr Amoako-Attah noted.
The sector minister assured the government's commitment to completing the roads, saying, "the government will do whatever it takes to make funds available to undertake this national exercise."
He asked the constructors to commence work and urged them to work together as a team and with speed to ensure swift completion while delivering quality work.
He added that the government would honour all financial commitments and provide the needed resources for mobilising their equipment to the sites to ensure that the work was completed in the shortest time possible.
Mr Wumbei Fuseini, Chief Executive Officer (CEO) of Mawums Limited, expressed appreciation to the government and the Roads Minister for their confidence.
On behalf of the contractors, he assured that work would be executed within time to bring relief to the people.
READ ALSO: Over 800 Homes, Farms Destroyed In Upper West Floods
The flood in the Upper West destroyed more than 800 homes and farms, rendering 336 persons homeless as 155 houses were destroyed.
In addition, 1,605 smallholder farmers in Nadowli-Kaleo, Jirapa and Lawra also lost their farmlands.
The floods also rendered major roads connecting communities unmotorable. The situation also affected transportation, leading to hikes in fares and food prices.
The Upper West Regional National Disaster Management Organisation (NADMO) Coordinator, Mustapha Ahmed, gave the details following an assessment of the situation.