GSA staff want Alex Dodoo sacked
Some workers of the Ghana Standards Authority (GSA) have petitioned President Akufo-Addo for the removal of their Director-General, Professor Alex Dodoo.
The workers have accused their boss of "running the GSA as a private company where he alone takes important decisions for the organization as well as side-stepping the institution's Scheme of Service, Collective Agreement and other policies".
According to them, the leadership style of Professor Alex Dodoo had the potential of collapsing the state institution.
But their boss denied the charges.
According to the petition addressed to the Chief of staff, Frema Osei Opare, and copied to President  Nana Akufo-Addo,  "some degree of uneasiness in the Ghana Standards Authority which is not conducive for productivity and is capable of causing labour unrest."
The petition further warns of the collapse of the organisation if President Akufo-Addo does not personally intervene to address the concerns of the workers.
"The workers fear the way and manner the Director-General is managing the organization will lead to a disaster in a few months to come" the petition cautioned".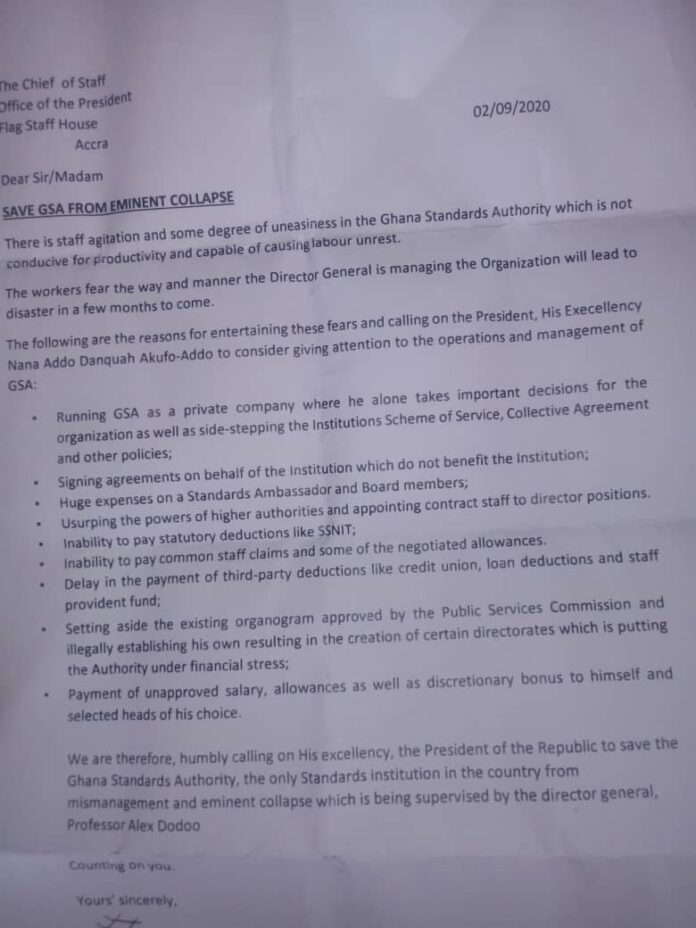 Prof Dodoo speaks
But speaking to theghanareport.com, Professor Alex Dodoo said he had not received any formal complaint from his staff.
He believes all his decisions are in the best interest of the organisation.
"We're running an organisation to provide the best service to the country and if any member of staff has any issue, they can put it formally to me. Look at it this way. They could say Mr A has brought this question and I will answer. But I haven't seen it," he told theghanareport.com in an interview Tuesday.
Professor Alex Dodoo was appointed to head the Ghana Standards Authority in June 2017.
He is an experienced clinical pharmacologist.