Hatred is too much of an intense word for Fotocopy to understand – Kuami Eugene reacts
Highlife and Afrobeat artiste Kuami Eugene has described comments nine-year-old singer Fotocopy has made about him as unfortunate.
According to him, Fotocopy is too young a boy to understand and throw about words like hatred, especially when talking about other artistes.
This comes after the 'School Dey Be' singer in a recent TV interview, said he hated Kuami Eugene.
"Kuami Eugene, I don't want to talk about it. In the whole industry, he is an artiste I hate. I hate him because of what he told me – it took me more than a week to eat. It took me more than a week for me to eat because he told me that my numbers were really small and he couldn't feature me," Fotocopy had said.
However, speaking on Prime Morning on Joy FM, Kuami Eugene said that he believes the young boy was influenced to say such words adding that Fotocopy is too young to understand the enormity of the word 'hate'.
"I think hate is too much of an intense word for a small boy to understand. To say that I hate someone. He's too young to understand hate but that's parenting. He's not my issue because I think hate is too profound for a little boy like this to say," he said on Thursday.
"You can tell clearly that in the interview he was having, he was told backstage….and whoever hosted the show, did a very bad job because he was also told backstage that ask him this question and answer it this way, you can clearly, go and listen to this interview."
Kuami Eugene believes that such words from an artiste especially one that young invite trolls and hatred from the public which goes a long way to affect their career in the future.
"When you go to his comment section, they're insulting this little boy and he didn't call for this. So, please real quick let me take this opportunity to say, those attacking the little boy, he's just a small boy. He doesn't understand what he's saying. So, forgive him and don't send him hateful words. He's just a little boy. I'm a big fan of Fotocopy. He's just a little boy. I love him," he said.
On claims he was approached for a feature, the Angela hitmaker stated that the young artiste's father, who doubles as his manager, casually requested a feature.
However, Kuami Eugene said that as an artiste signed on a label with a team, it takes more than just talking to him to secure a feature adding that he advised the Fotocopy's manager to have a formal conversation with his team.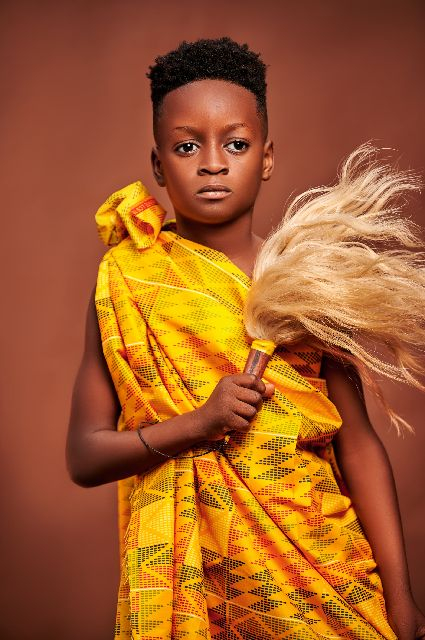 Kuami Eugene noted that he was thus taken aback to hear Fotocopy say he hated him while lamenting about not landing a collaboration.
"Kuami Eugene is not just there to do features for everyone. It takes good conversations to have a feature. To meet Richie…I do know the father. Qwaachi, you're my friend, let's go together. I will follow you and talk to Richie and the whole team – I have a road manager, somebody that invests and whatever."
Kuami Eugene said that Fotocopy's father was not willing to have that extensive conversation needed before they could reach an agreement on a feature.
The 'Cryptocurrency' singer stated that he knows the young boy's father works in the music industry and expected him to understand how the industry operates.
"He didn't like the fact that I said we should have a whole conversation about it. It doesn't work like that. That is what people don't get from the outside world," Kuami Eugene said.