Honyenuga refuses to step down from Opuni and Agongo case
Justice Clemence Honyenuga, the trial judge in the case involving former COCOBOD boss Dr Stephen Opuni and businessman Seidu Agongo, has refused to step down.
Justice Honyenuga said the application demanding that he removes himself from the case where the two have been charged for causing financial loss to the state was in bad faith.
Consequently, he dismissed the application at the hearing on Wednesday, June 9, for the trial to progress.
Justice Honyenuga, a Supreme Court judge with additional responsibilities as a High Court judge, is the substantive judge on the case but the defendants (Opuni and Agongo) had accused him of bias and feared they might not get a fair trial.
The counsel for the first accused person Samuel Cudjoe and state prosecution argued their positions on Wednesday.
Mr Cudjoe, who was the first to make his case, raised concerns that the judge may not give them the adequate time and facilities to make their case.
"We also want to point out that this is a criminal matter, and we have not caused any delay since the trial started. It is our submission that so far as the judge has indicated that his primary duties are at the Supreme Court, it has become obvious that our rights under Article 19 would be breached," he pointed out.
State prosecution, however, disagreed.
A Chief State Attorney Evelyn Keelson argued that the applicant (Stephen Opuni) had not disclosed any circumstances to warrant the judge to recuse himself.
In her submission, she pointed that Article 19 (1) of the 1992 constitution mandates the court to conduct an expeditious and fair trial. Therefore Justice Honyenuga did not err when he said he wanted an expeditious trial.
She added that the accused persons had enough time to prepare to open their defence.
"It is our submission that between May 17 and today (Wednesday) is exactly 24 days, so what is the accused person's defence? We, therefore, state that there is actually no basis for the argument that the applicant has not been given adequate time to put up his defence.
"As for facilities, this court has ordered the prosecution on countless occasions to serve the applicants with all manner of documents, including documents we had not even seen and had to search for. We submit that the applicant has had more than adequate time and facilities to prepare his defence," she insisted.
Support from party faithful 
A team of National Democratic Congress (NDC) party leaders were in court to show solidarity to the former COCOBOD boss and Seidu Agongo.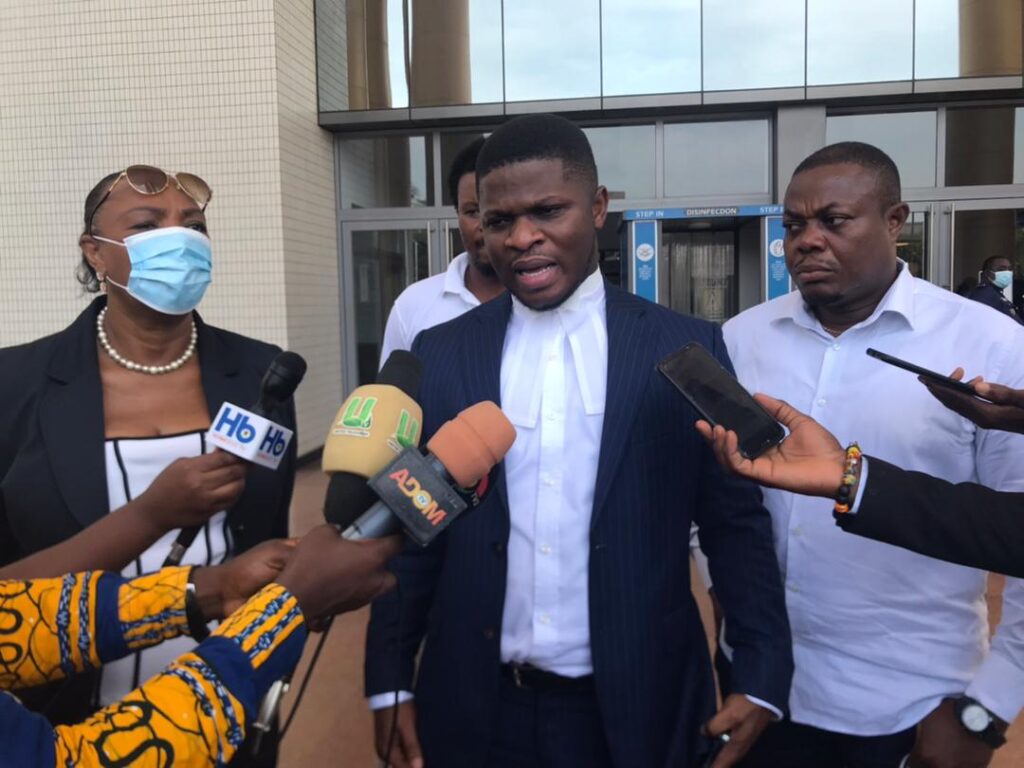 The party's National Chairman Samuel Ofosu Ampofo, General Secretary Johnson Asiedu Nketia, Deputy General Secretary Barbara Asamoah and National Communications Officer Sammy Gyamfi were present.
Betty Mould Iddrisu and Marietta Oppong Brew, both former Attorney General and Minister of Justice at different regimes of the NDC, were also in attendance.
Special Aide to former President Mahama Joyce Bawa Mogtari was also spotted in court.
Mr Gyamfi, who addressed the media, expressed their dissatisfaction with the court's ruling. He said the team would decide their next line of action, whether to appeal or not the judge's ruling.
Watch the video below
Background
In March 2018, the A-G charged the former CEO of COCOBOD, Dr Stephen Opuni and Seidu Agongo, the CEO of Agricult Ghana Limited, for causing financial loss of GH¢271.3 million to the state.
The two have been charged with 27 counts, including allegedly engaging in illegalities leading to the distribution of sub-standard fertilizer to cocoa farmers.
Agongo is alleged to have used fraudulent means to sell sub-standard fertilizer to COCOBOD for onward distribution to cocoa farmers. At the same time, Dr Opuni is accused of facilitating the act by allowing Agongo's products not to be tested and certified, as required by law.
The two accused persons have pleaded not guilty to all the 27 charges and are currently on a GH¢300,000 self-recognisance bail each.