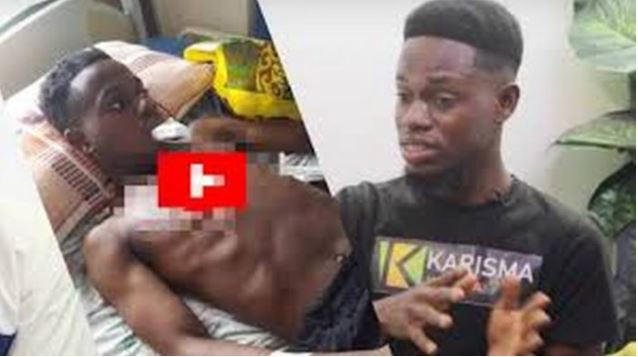 How a robbery attack forced man to jump over Dzorwulu overhead
A vlogger has recounted a harrowing robbery attack which forced him to jump over the Dzorwulu overhead in Accra. 
The jump, according to the victim, Kelvin Okyere cost him eight of his teeth on that fateful night.
Narrating his ordeal to Zionfelix in an interview, the young man said the incident happened on February 20, 2019, while he was on his way to the Accra Technical University from a church service at Madina around 9:30 pm.
"I had closed from church and wanted to meet someone around Abelenkpe, but I wasn't conversant with the area. So I decided to use Dzorwulu roundabout through to Abelenkpe. I alighted at the Achimota Forest bus stop and started my journey towards Abelenkpe.
"All of a sudden, I heard some footsteps coming from the forest. I ignored it thinking it could possibly be some animals in the forest," he recalled.
Kelvin continued his narration saying "all of a sudden, I saw someone rush out of the forest. I thought he had probably gone into the forest to ease himself, but I realised that wasn't the case".
He said the person rushed towards his way aggressively wielding a machete.
"While he moved towards me with his machete, I also moved back asking him what he wanted from me. Fear gripped me instantly because I was not expecting that. He was a huge figured man and he ferociously swayed the machete at me. I had never been attacked before so I was terrified.
Kelvin said he managed to cross to the other side of the road hoping he had escaped the attack. Before he could heave a sigh of relief, Kelvin said his attacker crossed him from the other side of the road.
"He rushed across me and attempted throwing the machete at me. I instantly jumped over the overhead. I preferred that to someone killing me in such a cold way for no crime committed. I landed on the gutter along the highway below the overpass," Kelvin said.
"I lost my teeth, twisted my jaw, and broke a leg. I couldn't move for about two or three minutes. When I gained consciousness, I was soaked in blood. A woman pulled over and asked what had happened. She told me she would return but never did," he added.
He, however, advised persons who ply that stretch of the highway to avoid using it at night especially when they are not driving.