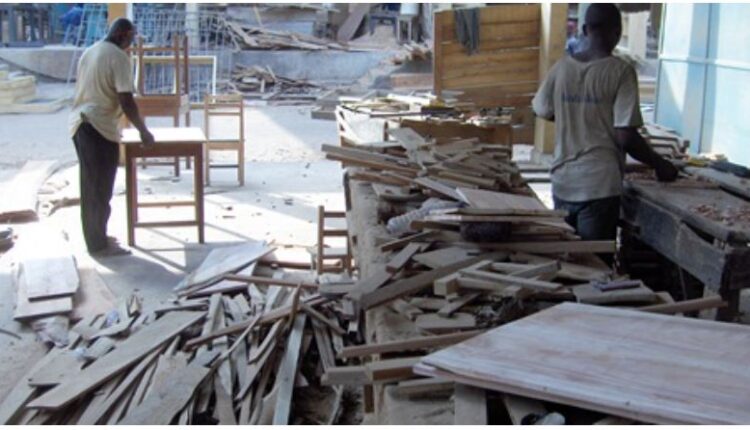 How COVID-19 is forcing children into child labour at Sokoban Wood village
Inside a wooden village at Sokoban, a neighbourhood at the outskirt of Kumasi, Ghana's second-biggest city, an 11-year old boy is busily packing up a pile of wood into a tricycle locally called "aboboya".
He pauses and waves at one of his peers dangerously hanging on another tricycle as it bounced on the bumpy dusty road.
On his forehead are beads of sweat breaking loose and drenching his face. His khaki short which has seen better days appeared to be a canvas dotted with white patterns.
Around his neck is a catapult –one he uses in hunting birds when business is slow or when he goes on break from the drudgery of loading trucks.
His name is Clinton. And he makes GHc 10 daily, working at the Sokoban Wooden village.
He is one of many child-apprentices attached to tricycle operators as 'mates' or helpers. They help "load" the woods into the tricycles as their "masters" negotiate for a fee.
After the tricycle is fully loaded, they hang on the moving tricycle like a loaded jute sack tossing up and down
"I am from Atonsu, a nearby town and I come here every day to work," he said.
Clinton lives with his mother and two other siblings; he does not know where his father is.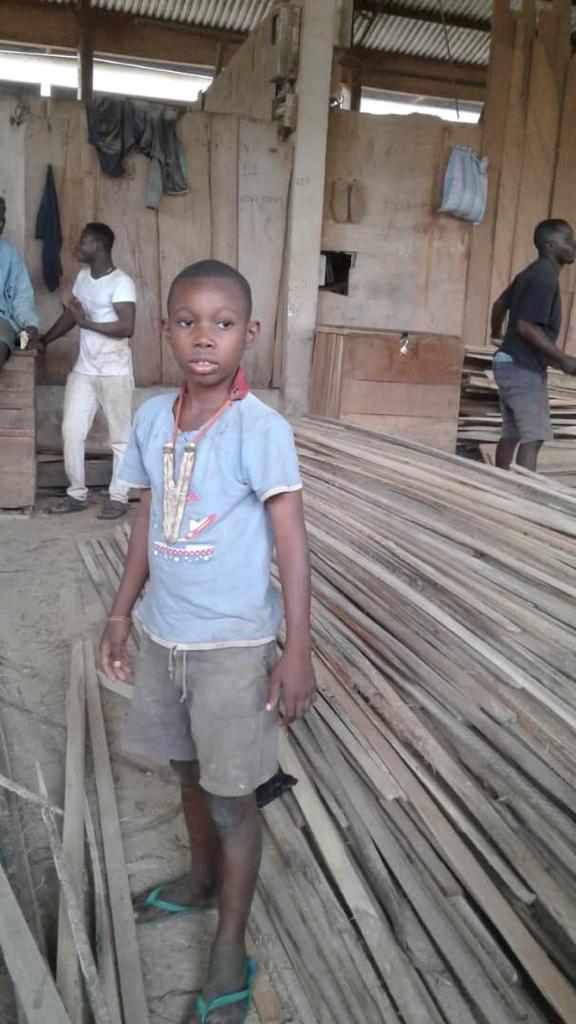 There are several others who shared similar stories as Clinton.
But the leadership of the Anloga Carpenter's Association told theghana.report.com that wood hub described as the biggest in West Africa was not home to child labour.
"We do not accept apprentice who is less than 17-years old. But due to the COVID-19, a lot of the children follow their fathers here. Most of the children you see here are relatives of the masters [business owners]," Eric Nyadjor, special assistant to the association chairman said, fending off concerns of child labour.
Under the Ghana Children Act 1998, the minimum age for admission of children into employment is 15. However, children may be employed at the age of 13 to do light work. The minimum age for engagement of persons in hazardous work is 18.
But there are children younger than Clinton in the bowels of the wood village earning their keep from hazardous work.
Under makeshift tent where a steamy black sauce sat defiantly on a coal pot. The aroma of kontomire stew wafted out of the rickety structure that looked like it would give up any time.
A plump teenager, who looked like she ate more food than customers buy, vigorously fanned the fire, as a middle-aged woman dipped a wooden ladle into the pan, poured the content into her palm and licked it, nodding her head vigorously.
The girl is among scores of young girls at the village working as kitchen hands for food vendors.
For some, the pay is the food they eat, but for others, the daily wage is grossly less than the minimum wage.
And again for others, it's a family business, one that put food on the dining table, so they must help.
These girls rise from the sound of the first cockerel, stifling yawns as they dash out of bed for the long day ahead.
Apart from those who serve food in the makeshift turns, others become beasts of burden as they become support staff for roving food vendors.
They carry water, sauces, extra pot of food following their bosses as they hawk food.
More than 100 children work in the wooden village as COVID-19 forced a shutdown of schools.
When the Kufuor administration relocated the artisans of Anloga in Kumasi in 2008 to the Sokoban Wood Village, the expectation was that the country's biggest wood hub would become an ultra-modern wood and artefact mecca.
But years of neglect by successive governments meant that very little support had been extended to it over the years.
However, children working in its belly are not different from their compatriot who support their families on cocoa farms.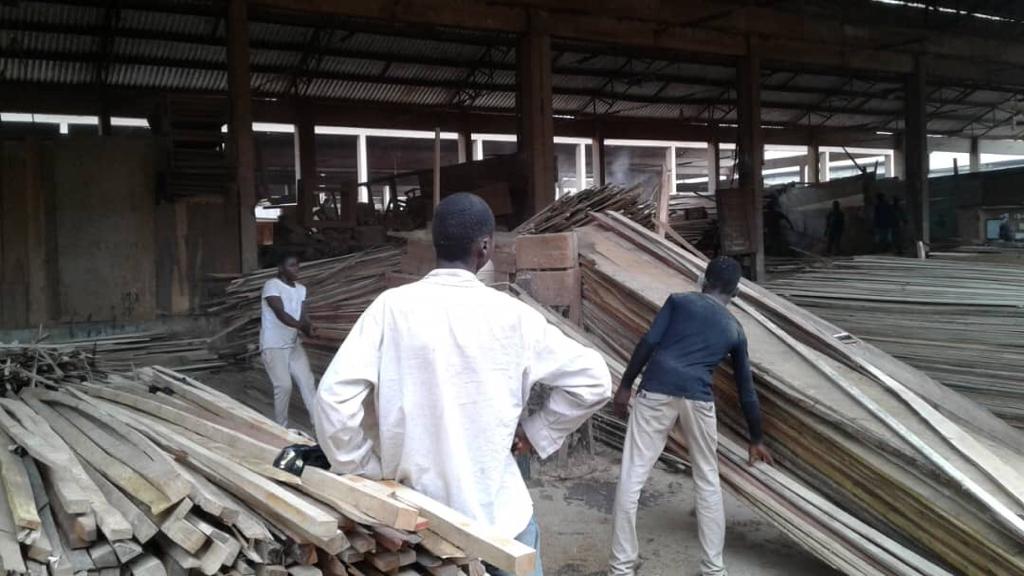 About two-thirds of the world's cocoa supply comes from West Africa where, according to a 2015 U.S. Labor Department report, more than two million children were engaged in dangerous labour in cocoa-growing regions.
Industry promises began in 2001 when, under pressure from the U.S. Congress, CEOs of some of the biggest chocolate companies signed a pledge to eradicate "the worst forms of child labour" from their West African cocoa suppliers. It was a project company agreed to complete in four years.
But the situation persists.
The levels were higher than in 2010 when companies including Mars, Hershey, Nestle and Cargill agreed to reduce the worst forms of child labour in Ghana and Ivory Coast's cocoa sectors by 70% by 2020.
The two West African countries – which together produce about two-thirds of the world's cocoa – had both questioned the methodology used in an earlier version of the report prepared by researchers from the University of Chicago and seen by Reuters News Agency in April 2017.
Ghana again questioned the data in the new report, released on after the US Department of Labour appointed a group of independent experts to conduct a review.
There is a divided opinion on constitute child labour on cocoa farms.
While one school of thought believes that the presence of children in cocoa farms should be a thing of the past, its proponents doubt the findings of researchers from the West on the country's cocoa farms and insisted that the label only gave Ghana a bad name and should not be accepted.
They hold the view that Child labour is not a big issue in the cocoa industry in Ghana now and urged the west to segregate the cultural dimensions and Ghana's social set-up from what people label as child labour.
"Children accompanying their parents to the farm without engaging in any strenuous work but to learn the operations of cocoa farms had been how knowledge was passed on from generation to generation and that did not amount to child labour," the former Western North Minister, Dr Kwaku Afriyie once told Parliament.
He, however, admitted that the campaign against child labour had drawn attention to things that "were bad for children in times past".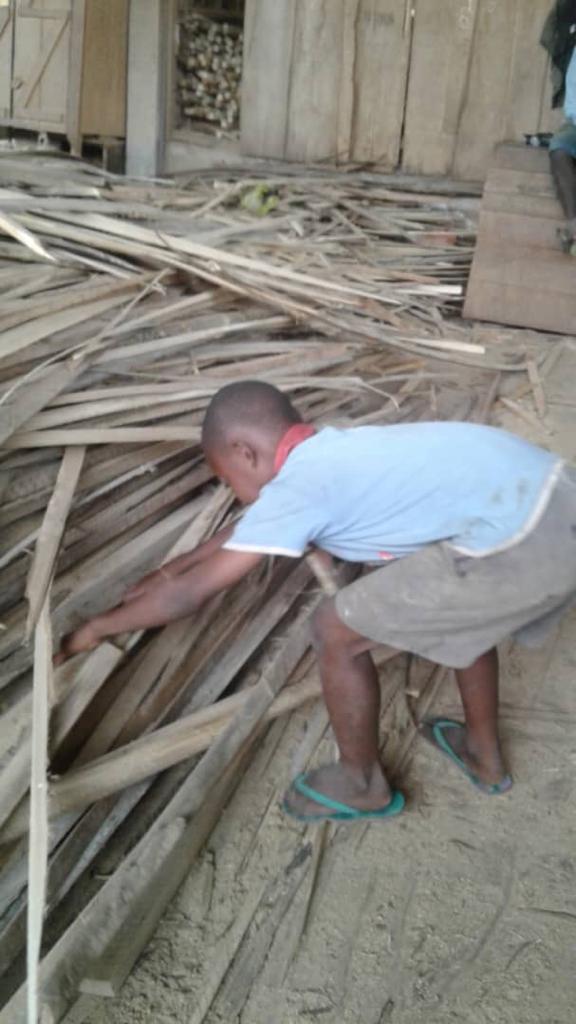 Ghana makes progress
Over the years, there have been a number of interventions in the cocoa sector concerning the use of child labour, particularly in Ghana and Cote d'Ivoire.
Research conducted by the Tulane University in New Orleans, Louisiana, USA, in 2015 established that Ghana's efforts at stopping children from engaging in hazardous work were on course.
It established that in 2013/14, the number of children in child labour in cocoa production decreased from 43.9 per cent to 41.1 per cent, with 96 per cent of them attending school in 2013/14, as against 91 per cent in 2008/09.
The research, which covered the 2008/09 and 2013/14 cocoa seasons, noted that against a backdrop of population growth and increases in cocoa production, Ghana managed to reduce the percentage of children exposed to hazardous work not only in cocoa but also other areas of child exploitation.
But others believe such efforts without an attempt to deliberately encourage young people to go into cocoa farming is part of the reason Ghana's cocoa production is taking a dip.
Whichever way one looks at it, a lot needs to be done take away children from hazardous work not just in the country's cocoa farms but also Sokoban—the wood village yet to live its dream.