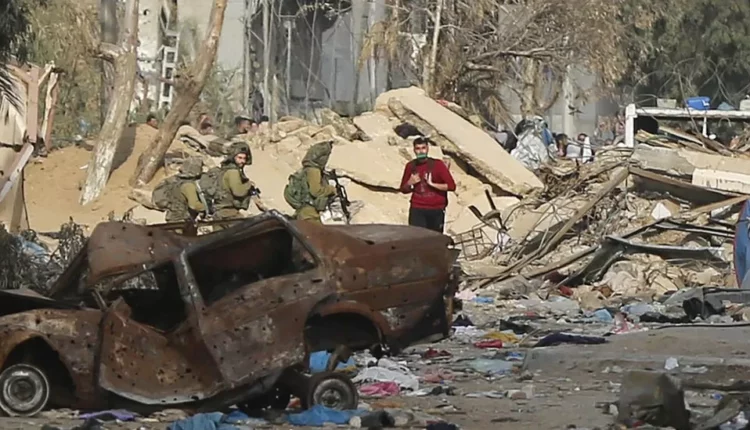 Hundreds leave Gaza's al-Shifa hospital as many feared killed at UN shelter
Hundreds of people including some patients left Gaza City's main hospital on Saturday. Some medical staff said they had been told to leave but Israel disputes this.
Many were seen walking along rubble-strewn streets as gunfire rang out.
Separately Hamas health officials said two explosions in Jabalia in northern Gaza together killed 80 people.
Israel told the BBC it could not confirm it struck a UN school-turned-shelter but was investigating.
BBC Verify has geolocated footage to al-Fakhoura school in Jabalia that shows many people – including women and children – with severe injuries or lying motionless on the floor in different parts of the building.
There are more than 20 such casualties visible in the footage, and around half of these are seen in one particular room on the ground floor, which also shows signs of considerable damage.
The head of the United Nations agency for Palestinian refugees (UNRWA) Philippe Lazzarini said he had seen "horrifying images and footage of scores of people killed and injured" in one of his agency's schools "sheltering thousands of displaced".
"These attacks cannot become commonplace, they must stop," he said.
Separately, the Hamas-run health ministry said more than 30 people from the same family had been killed elsewhere in Jabalia, in what it also said was an Israeli strike.
The Israel Defense Forces (IDF) had no immediate comment on the report but said it was expanding operations in Gaza, including in Jabalia, to target Hamas.
The Hamas-run health ministry says the death toll in Gaza has reached 12,300. More than 2,000 more are feared to be buried under rubble.
A joint UN team led by the World Health Organization (WHO) has described al-Shifa hospital as a "death zone" after visiting the facility following its occupation and evacuation by Israeli military.
The team assessed the hospital for one hour, and said they saw evidence of shelling and gunfire, and observed a mass grave at the hospital's entrance.
They were told it held the remains of 80 people.
Following evacuation orders issued by the Israeli army, 300 critically-ill patients remain in al-Shifa – formerly the largest and most advanced hospital in Gaza.
The WHO team said it was attempting to arrange for the urgent evacuation of remaining patients and staff to other facilities in Gaza.
A journalist at the hospital told the BBC that only "patients who could not move and a very small number of doctors" remained behind.
"We raised our hands and carried white flags," Khader, a journalist who had been at al-Shifa, told the BBC.
"Last night was very difficult. The sounds of explosions and gunfire was terrifying. The bulldozers created huge holes in the hospital yard and swept away some buildings,"
Earlier, the Hamas-run health ministry said 120 patients remained at the hospital, as well as an unspecified number of premature babies.
The IDF denied ordering the evacuation of al-Shifa and said it had agreed to a request from the hospital's director for those wanting to leave to evacuate through a "secure route".
"At no point did the IDF order the evacuation of patients or medical teams and in fact proposed that any request for medical evacuation will be facilitated by the IDF," a statement said.
Dr Ramez Radwan, a doctor who said he was ordered to leave al-Shifa by Israeli authorities, described the situation at the hospital as "miserable", saying there were no painkillers or antibiotics and some patients had "worms coming out of the wounds".
Israel's military has raided the hospital in recent days, as part of what it describes as a "targeted operation against Hamas", but is yet to provide substantial evidence that the group conducted a major operation underneath.
It has told Palestinians in northern Gaza to leave for their own safety and has now begun telling people in the southern city of Khan Younis, where many thousands of people who have fled northern Gaza are, that they must now also leave.