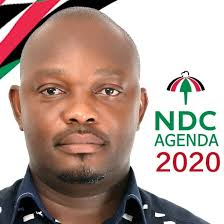 I qualify to vote – NDC parliamentary aspirant takes EC on
Three days after the Electoral Commission withdrew his voter identification card, the NDC parliamentary aspirants for Cape Coast North Constituency, Kwamina Minata Nyarku, says he will legally challenge the decision.
"The necessary legal steps to safeguard my constitutional rights are being considered and will be acted upon as soon as practicable," he said in a statement.
Minta Nyarku's voter ID card was withdrawn by the District Registration Review Committee of the commission after an agent of the New Patriotic Party (NPP), challenged his residency status at Nkanfoa, where he registered.
"Minta Nyarku provided his house address, he pointed to a building where he stayed, but when he was challenged and appeared before the committee, he could not substantiate it" Joy New's Central Regional Correspondent reported.
The withdrawal by extension affects his candidature as a parliamentary aspirant when the EC opens nomination because per Ghana's electoral laws, a non-registered voter cannot vie for elections.
But in the statement, the NDC parliamentary aspirant insists he qualifies to vote in the constituency.
"I have been voting in the Cape Coast North Constituency in the previous elections, I have been a resident, and still a resident of the Cape Coast North Constituency."
" I currently reside in the electoral area, where I recently registered in the on-going voter's registration exercise' the statement said.