'I started my business with GH¢1' – Ga Mantse
President of the Ga Traditional Council, King Tackie Teiko Tsuru II
Ga Mantse, King Tackie Teiko Tsuru II, has called for financial support for businesses within the Ga State as the economy recovers from the impact of coronavirus.
Explaining what his outfit was doing to help, the king said his administration was collaborating with the National Board for Small Scale Industries (NBSSI) on promoting businesses within the Ga State.
The Ga Mantse, known in private life as Dr. Kelvin Nii Tackie, recalled his own initiatives in starting a cleaning services venture in 1998.
He remarked that he used what was the equivalent of GH¢1 to start his business.
"I started my business with only One Ghana Cedi. I bought two brooms and two mops," he explained on Asaase Radio Sunday, in an interview monitored by theghanareport.com.
Now the business has "so many workers, you can't imagine," King Tackie Teiko Tsuru II.
Some 22 years ago, GH¢1 was ¢10,000.  In 1998, ¢10,000 was about $4.5 which would be equal to $7.1 in 2020.
Established in 1998, Ke-Clean Enterprise Limited provides services for clients including banks and leading beverage companies in Ghana.
Dr. Kelvin Nii Tackie is also the founder of Aenon Artisanal Mining Limited, KEEDA Productions Limited, among others.
The Ga Mantse said they have over 260 start-ups in Ga Mashie including Kenkey production business.
Some of the people were able to access loans for start-ups and others for expansion through the NBSSI.
He is much interested in helping his people to create sustainable income ventures.
His call for more support from the National Board for Small Scale Industries (NBSSI) triggered memories of his association with the NBSSI.
"One funny thing was that when I met the director, I was telling her that I was National Resource Person [for the NBSSI] in Kumasi".
From politics to chieftaincy
King Tackie Teiko Tsuru II has tasted leadership in different spheres and had a stint in politics a few years before his coronation in 2017.
He said he was in the UK when he met Jacob Osei Yeboah (JOY), an independent candidate for the 2012 elections.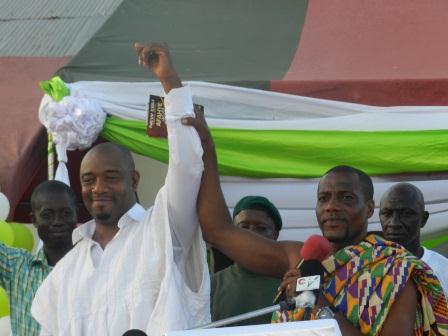 He said he was encouraged by JOY to enter politics. He took up the challenge and was outdoored as JOY's running mate at New Ebu in the Central Region.
Eight candidates were on the ballot sheet. Out of over 11million votes, JOY managed a paltry 15,201 representing 0.14%.
The Ga Mantse said he used the political platform "to see Ghana and the people from the North to the South and understand the cultures and the needs of the people".
"I didn't really think of a win," he added. He said politics was to tour Ghana.
"It was great and I think that I could have carried on and been in active politics," he noted.
Vision for Ga State
The business consultant sees Ghana as an investment destination with Accra playing a vital role in commerce.
The Ga State wants to establish a Salt Mining plant in Ada to produce salt. They are also eyeing cattle ranching to produce dairy and meat processing products in Sege.
Additionally, they plan an aquaculture business in Kokrobite.
The Ga State has also set sights on real estate ventures to build affordable houses for rent.
He hopes to unite all the paramountcies to ensure development for the indigenes.
The Ga Mantse wants to see the Ga language taught in schools to become part of the national curriculum.
His plans include a lower chieftaincy chamber for Ga queens and female priestess to have a voice.
Development of girls is also high on his agenda to "see the girl child equal enrolment to that of boys. I want to see that most Ga girl children are retained in schools with the proper and successful transition until completion".
Entrepreneurial skills, scholarships schemes, and libraries are on his agenda.
He did not exclude sanitation as he highlighted the need for proper waste management.
"I believe Accra has a huge waste management potential".
He wants Accra to have at least two international sister cities for knowledge and technology transfer in areas such as ICT and others.
The 2020 election 
He advised his people to eschew violence in the upcoming elections.
He said the poll should not be about the NDC or NPP but the interest of the country.
"Pulling of weapons, hurling of stones, machete attacks and the likes should be absent in our dealings," he appealed in the Ga language.
He advised his people to leave the rest of the polling processes to the Electoral Commission (EC) after voting.
"Most of the misunderstanding occurs due to people hanging around after voting and passing comments that infuriate other individuals," he added.
COVID-19
Additionally, he entreated his people to continue observing all COVID-19 protocols because the disease was still present in the country.
He told Gas about the absence of a cure for the pathogen hence the need to follow health advice from the Ministry of Health, the Ghana Health Service, and all their allied agencies.