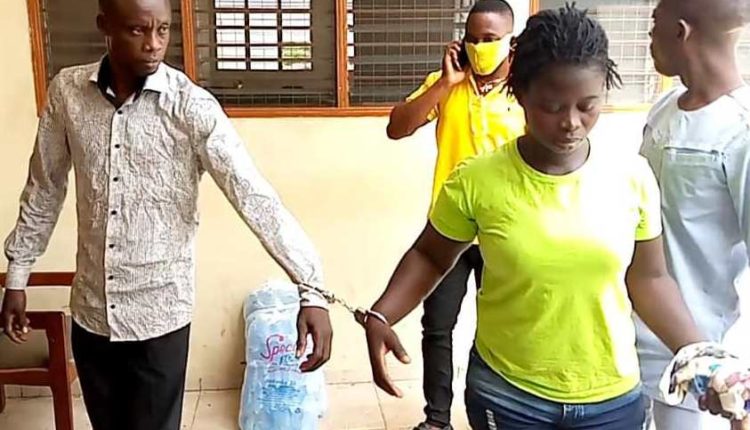 I want her back – Husband whose wife plotted with lover to kill him
David Gator, the husband of the cheating wife who conspired with her lover to kill him, says he hopes to get his wife back once she has been granted bail.
Expressing his disappointment after the Asokwa District Court denied the cheating lovers bail, Mr Gator said he was convinced his wife was not the mastermind behind the plot to kill him.
"I love my wife. I live with her in the same house. That is not how she behaves. He put the evil plans in her head," he told the media.
The father of three said he has long forgiven his beloved wife, Mavis and was ready to take her back should she be freed.
In an interesting twist to the unending love tail, Mr Gator offered his wife money for her upkeep while in custody, when the two met in court over the plot to dispatch him(Gator) to the land of the dead. 
The two lovebirds, Patrick Asare and Mavis Adwoa Brepor, were once again remanded in police custody for allegedly plotting to kill Mavis' husband.
The 32-year-old, Mavis Brepor and 51-year-old, Patrick Asare, had decided to take their affair to another level by getting married.
Mavis' husband, 52-year-old, David Gator, was their stumbling block. They allegedly decided to hire a hitman to kill him.
The plot went wrong after the hitman they were contracting turned out to be a police officer.
The lovebirds are to reappear in court on June 3, 2020.
Cheating lovers who mistakenly hired police commander to kill husband remanded
Annis Muhaydeen, who is legal counsel for Mavis Brepor, expressed disappointment in the court's decision to refuse his client bail.
But was hopeful that he would be granted a favourable hearing when he sent his application before the High court.