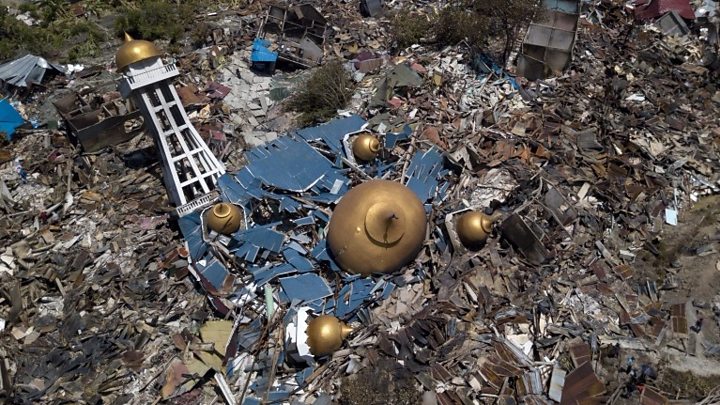 Indonesia earthquake and tsunami: Dead buried in mass grave
Volunteers have begun burying victims of Indonesia's deadly earthquake and tsunami in a mass grave.
Friday's disaster devastated swathes of the eastern Sulawesi island and has left at least 844 people dead.
Some remote areas have yet to be contacted, and there are fears that the death toll could rise further.
A lack of heavy lifting equipment is hampering rescuers' attempts to reach people who remain alive in the ruins of collapsed buildings.
Dozens of people are feared to be underneath the rubble of one hotel alone, the Roa-Roa in the devastated resort of Palu.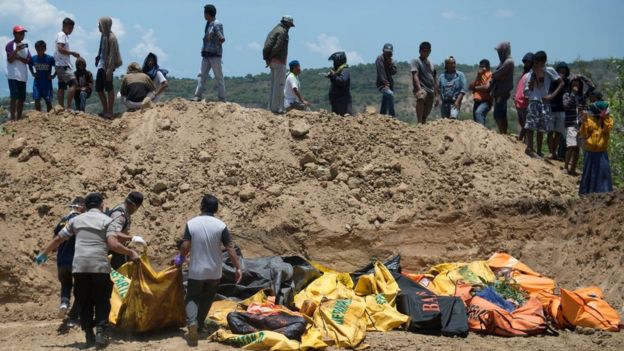 In Sigi, south of Palu, the bodies of 34 children were found at a church which was engulfed in mud and debris, Indonesia Red Cross spokeswoman Aulia Arriani was quoted as saying by Reuters.
She said the children were on a "Bible camp".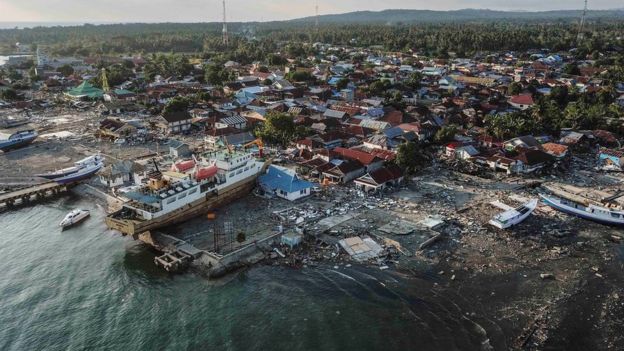 Indonesia's National Disaster Mitigation Agency confirmed to the BBC that none of the country's tsunami detector buoys were working before Sulawesi was hit.
Agency spokesman Sutopo Purwo Nugroho said the 21 floating detection units – which are connected to deep sea sensors – had been damaged by vandals or stolen.
A tsunami warning was still sent out – but it appears to have drastically underestimated the scale of the waves that would follow.
Many people in Palu did not receive alerts because of power cuts caused by the tremor. There were also no sirens located along the coast.
source:BBC