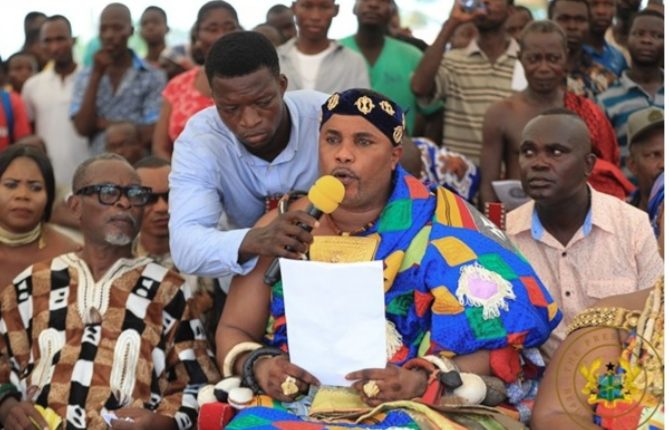 Industrialisation a reality under Akufo-Addo; We have two 1D1Fs – Ngleshie Amanfro Chief
The Paramount Chief of Ngleshie Amanfro, Nii Kwarshie Gborlor IV, has lauded President of the Republic, Nana Addo Dankwa Akufo-Addo for fulfilling his promise of establishing two factories under the 'One District, One Factory project ' in the area.
"If we haven't seen none at all, we have seen the Everpure Factory and the one producing sanitary pads. The pads that our women use, so they do not disgrace themselves when their monthly time is due," he said.
The excited traditional ruler made the observations at a durbar attended by President Nana Addo Dankwa Akufo-Addo as part of his Greater Acra Regional Tour.
Emphasising on the importance of the project "the Chief applauded the President for the strides made in bringing the economy back on track.
"Thanks to you our economy, per the indicators, has been shaped in a better way, he stated.
"Sometime past, all we use to hear was that inflation is always on the ascendency as if it was getting aboard a helicopter. But you have not only kept it stable but gone ahead to reduce it," he added.
The government's flagship program, the One District, One Factory is expected to create jobs and alleviate the rate of poverty in the districts and communities.
The policy targets sectors including agro-processing, textile, and clothing, information communication technology, pharmaceuticals and cosmetics, waste management, distribution and trading as well as tourism, arts, and crafts.
As of May 2019, the Ministry of Trade and Industry figures show 180 factories have been enrolled under the 1D1F programme since its launch in 2017.
Fifty-seven of them are currently operating, while 22 were still under construction.