Insurance can ease gov't's Covid-19 burden – Hollard Group CEO builds case for strong partnerships
Chief Executive of Hollard Group Mrs. Patience Akyianu has called for a partnership between government and insurance companies to lead the recovery of a coronavirus-ravaged economy.
She said the government is having to bear 'a big chunk' of the burden of cushioning Ghanaian businesses because of the lack of strategic partnership between asset managers, insurers.
Hit by the coronavirus pandemic, businesses, have been clamouring for a government bail-out.
The Ghana Statistical Service's Ghana Business Tracker revealed it found that 35.7 per cent of business establishments had to close during the partial
lockdown, with 16.1 per cent continuing to be closed after the easing of the lockdown.
It said firms in the accommodation and food sector were the most affected (24.0 per cent had to close).
The Tracker said 46.1 per cent of business establishments report that they reduced wages for 25.7 per cent of the workforce (an estimated 770,124 workers).
In reaction, the government has supported at least 240,000 businesses with a share of the GH¢750 million Coronavirus Alleviation Programme Business Support Scheme (CAP BuSS).
Speaking at the Ghana Economic Forum, organised in Accra by the Business and Financial Times newspaper, Mrs. Patience Akyianu said insurance could have come to the rescue of many businesses and households with the right collaborations.
She joined other panelists to discuss the theme; 'Resetting the economy beyond covid-19; Building economic resilience and self-sufficiency' where she pointed out that the role of insurance was an important subject during the 2020 World Economic Forum held in August.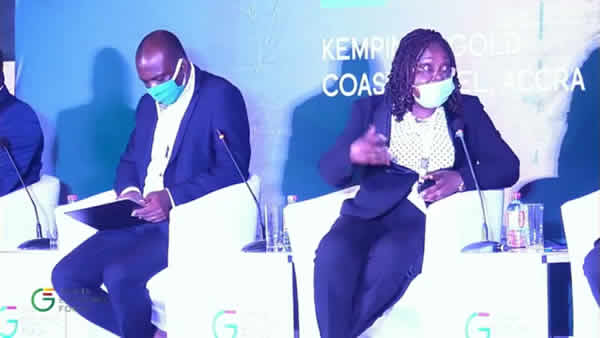 The CEO said business leaders world over discussed how the coronavirus pandemic had once again revealed huge gaps in risk management for governments, businesses, and households.
The WEF revealed the global insurance protection gap – the difference between insured losses and economic losses – has climbed to more than $1 trillion globally.
It observed that governments are getting deeper in debt and may not be able to handle another economic shock should it occur.
"Concurrently, public debt ratios in many countries have climbed over 100% – a potential constraint on the public sector's future ability to backstop more frequent and severe catastrophic shocks."
The Forum's Insurance & Asset Management Industry Action Group and Bain & Company unveiled a new framework for the insurance and asset management industry.
She said a similar conversation should be happening in Ghana with the aim of identifying new opportunities for public-private partnerships that can drive insurance in Ghana.
She said the focus on building resilience should move beyond banks to insurance companies, the 'foremost risk engineers' in any economy.
"I cannot see any program happening in this country without insurers and asset managers partnering with government to put an agenda together to help us recover after all this is over," she remarked.
As the government that as it plots a post-coronavirus economy, the Hollard Group CEO charged leadership to engage with insurers so that the 'burden can shift slowly to those with the relevant expertise."
The Ghana Economic Forum is organized by the Business and Financial Times (B&FT).
It gathered a cream of Ghana's business leaders into a discussion which the organisers believe should drive policy and strategy.
The two-day forum was addressed by Finance Minister, representing President Nana Akufo-Addo. It also brought together business leaders and stakeholders like the Senior Minister Yaw Osafo Maafo, Deputy Trade and Industry Minister, Robert Ahomka-Lindsay, and MD of Fidelity Bank, Julian Kingsley Opuni.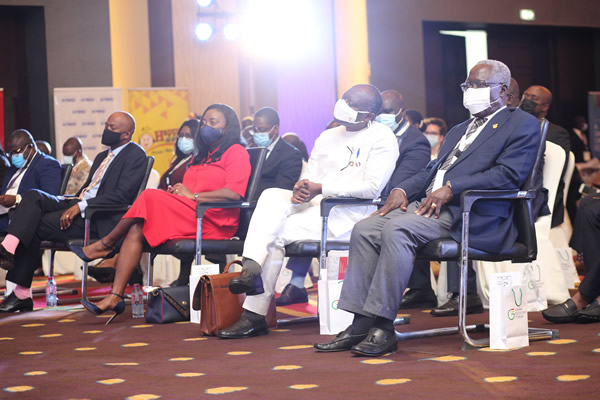 Photo: Finance Minister Ken Ofori-Atta [in white] and Senior Minister, Yaw Osafo Maafo [extreme right]
L-R: Head of Research at Bank of Ghana, Philip Abradu Otoo; University of Ghana lecturer  Prof. Godfred Alufar Bokpin; Chief Executive of Hollard Group Mrs. Patience Akyianu; MD of Fidelity Bank, Julian Kingsley Opuni, Mr.  Deputy CEO, Ghana Association of Bankers, John Awuah and Moderator, Bernard Avle of Citi FM.
Earlier, the Managing Director of the Ghana Economic Forum, Dr. Godwin Acquaye, MD,  highlighted the influential role of the Forum as it marked its 9th anniversary.
"Over the past eight years, the Ghana Economic Forum has evolved into an influential platform for businesses, government, the international donor community and civil society to come together to shape the economic agenda of the country."
"These meetings are important points of connection for all our communities. It is your opportunity to take advantage of the platform we have built – not only to bring you together, but also to catalyse action from your ideas."