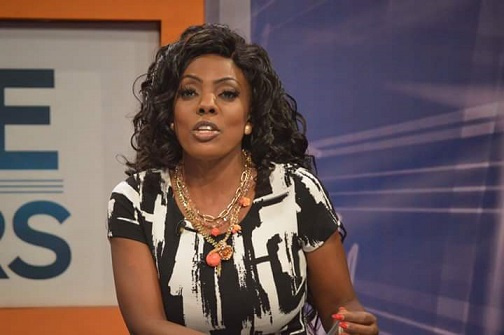 Invest in armoured vans not plush offices – Nana Aba to banks
TV personality Nana Aba Anamoah has waded into discussions surrounding the death of a police officer who was shot and killed on duty while providing escort for a bullion van.
The deceased cop and a woman were murdered during a heist on a Mon-Tran bullion van on Monday, June 14, 2021, in Accra.
After the incident, the Inspector-General of Police has threatened to withdraw his officers from escort services unless banks provide armoured vans.
In a tweet, Nana Aba called out banks for being concerned about aesthetics instead of security.
"Dear Ghanaian banks, A invest (sic) in bullion vans. It shouldn't just be about your plush office inexpensive locations. #ProtectThePolice" she tweeted.
As a bank, you're spending millions on plush head offices but can't do same for safe & secure bullion vans?

Is everything okay?

— n.a (@thenanaaba) June 16, 2021
Bullion vans have been targeted on many occasions in the past.
Bullion van attacks
January 2021
Ten suspected armed robbers attacked a bullion van belonging to the Delta Security Company at Fomena in the Ashanti Region.
In that attack, a policeman escorting the van, General Lance Corporal Martin Baba, was killed.
The van was transporting GH¢500,000 from the Dunkwa-on-Offin branch of the Ghana Commercial Bank to the bank's branch at New Edubiase when the attack occurred.
The leader and some suspects were later apprehended.
The mastermind was John Appiah, alias Omega, a 22-year-old senior high school (SHS) graduate.
March 29, 2012
There was a scramble as passers-by and second-hand phone dealers struggled to access large sums of money that had dropped from a Toyota bullion van involved in an accident at the Kwame Nkrumah Circle in Accra.
The speeding bullion van with registration number GW 1847 S and travelling from Accra New Town towards the Kwame Nkrumah Circle collided with a VIP bus at an intersection near the Vodafone Head Office.
With the occupants of the vehicle trapped inside, the army of second-hand phone dealers and passers-by who rushed to the accident scene took to looting the wads of cash that spilled from the vehicle.
July 21, 2018
A police officer who was guarding a bullion van reportedly shot and killed the bullion driver by accident at Odumase Krobo in the Eastern Region.
The bullion van driver reportedly met a rowdy funeral procession on the Odumase Krobo road.
The police officer, who was guarding the bullion van, in an attempt to restore order for the van to drive through the noisy funeral procession, fired warning shots, which bullet hit the driver.
October 4, 2019
One person was confirmed dead following a head-on collision between a Bank of Ghana bullion van and a fuel tanker at Techiman in the Bono East Region.
The collision also sent thousands of Ghana cedis notes flying into the sky and scattered on the road.
December 3, 2019
On December 3, 2019, a police officer was confirmed dead after a bullion van he was escorting was attacked by some armed men.
The deceased, Sergeant Emmanuel Chikudoh, was part of a team escorting an ADB bullion van to Essam in the Western Region when the incident occurred.
October 7, 2020
On October 7, 2020, two people who connived to steal more than GH¢ 1 million they were transporting in a bullion van for a bank were sentenced to four years in prison.
A Cash in Transit (CIT) Officer, Bismark Abem, and a driver, Eric Larbi, were found guilty of two charges—conspiracy to commit crime and stealing.