Iran protests rage as Mahsa Amini's father says authorities lied about her death
The father of an Iranian woman who died in police custody last week has accused authorities of lying about her death, as protests rage nationwide despite the government's attempt to curb dissent with an internet blackout.
Amjad Amini, whose daughter Mahsa died after being arrested in Tehran by morality police, said doctors had refused to let him see his daughter after her death.
Iranian officials have claimed she died after suffering a "heart attack" and falling into a coma, but her family have said she had no pre-existing heart condition, according to Emtedad news, an Iranian pro-reform media outlet. Public skepticism over the officials' account of her death has sparked an outpouring of anger that has spilled into deadly protests.
"They're lying. They're telling lies. Everything is a lie … no matter how much I begged, they wouldn't let me see my daughter," Amjad Amini told BBC Persia on Wednesday.
When he viewed his daughter's body leading up to her funeral it was entirely wrapped except for her feet and face – though he noticed bruising on her feet. "I have no idea what they did to her," he said.
CNN could not independently verify his account with hospital officials.
A protest in Tehran, Iran, over the death of Mahsa Amini, on September 21.
Anadolu Agency/Getty Images
CCTV footage released by Iran's state media showed Mahsa Amini collapsing at a "re-education" center where she was taken by the morality police to receive "guidance" on her attire.
Her death has sparked an outpouring of anger that has snowballed to include issues ranging from freedoms in the Islamic Republic to the crippling economic impacts of sanctions.
Protests and deadly clashes with police have broken out in towns and cities across Iran, despite authorities' attempts to curb the spread of demonstrations through internet blackouts.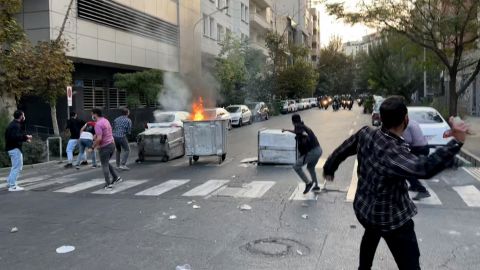 The riot police deployed tear gas, with a "heavy-handed crackdown" near Tehran University, said an eyewitness.
Another eyewitness in the city's eastern district said protesters were heard shouting "Death to the dictator," a reference to Iran's Supreme Leader, and "I kill anyone who killed my sister," referring to Amini.
Videos from protests nationwide show people destroying posters of the Supreme Leader, and women burning their hijabs and cutting off their hair in a symbolic show of defiance.
CNN has reached out to the police and Iranian Revolutionary Guard (IRGC), which joined riot police on Wednesday night in Tehran, for comment.
The IRGC issued a warning to protesters in a statement Thursday, and called on the judiciary to identify people responsible for spreading "rumors" on social media.