June records eight road fatalities daily as COVID-19 restrictions ease
Following the government's relaxation of coronavirus containment measures, there have been increased road activities leading to a rise in fatalities for June 2020.
Data from the Motor Traffic and Transport Department (MTTD) of the Ghana Police Service showed 232 fatalities for the month, a 36% increase from the 171 deaths recorded in May.
It also implies an average of nearly eight deaths daily for the month of June.
The figure also represents a 23% rise in fatalities within the same period in 2019.
The total number of crashes recorded across the 16 regions were 1,210. Commercial vehicles contributed 739, private vehicles 767 while motorcycles (motorbikes, bicycles, handcart and tricycle) 468.
Vehicles involved in the crashes totalled 1,974 and there were 217 pedestrian knockdowns out of which 55 people lost their lives.
Persons involved in various forms of injuries were 1,119.
READ MORE: Motorcycle Accidents Spike Road Fatalities For April 2020
Compared to the same period in the previous year, all the parameters registered an increase except pedestrian knockdowns,, which resulted in deaths and the total persons injured in crashes.
Accidents involving high-occupancy intercity commercial vehicles accounted for the majority of the lives that perished, accounting for 96 deaths.
A significant number of fatalities were also attributable to reckless motorcycle users, which resulted in 87 lost lives.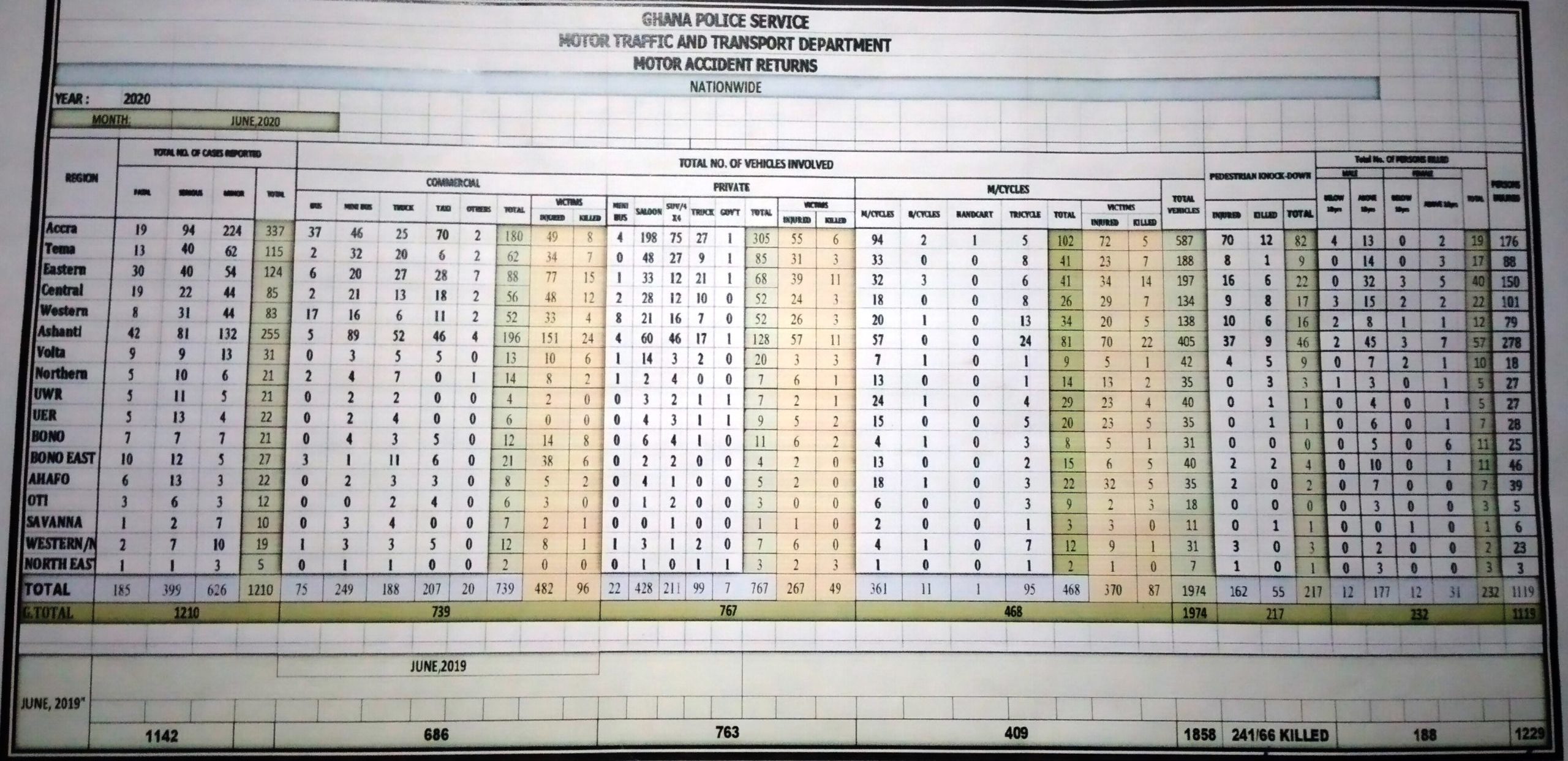 Even though Accra had the highest crashes of 337, the Ashanti Region registered the highest fatalities of 57. The two regions are the most populous with the most intense road traffic activity.
The North-East Region had the least crashes of five while the Savanna Region recorded one fatality.
Road traffic offences for June totalled 651, out of which 585 cases were convicted. Out of that sum, 28 are awaiting trial with 66 cases still under investigation.
A total of 18 people were discharged, and one person jailed.
Monies realised from paid fines was GHC 276, 876.
Commenting on the development, the Head of Education, Research, and Training at the MTTD, Superintendent Alex Obeng, told theghanareport.com, "We have lost so many people to road accidents as compared to the same period last year."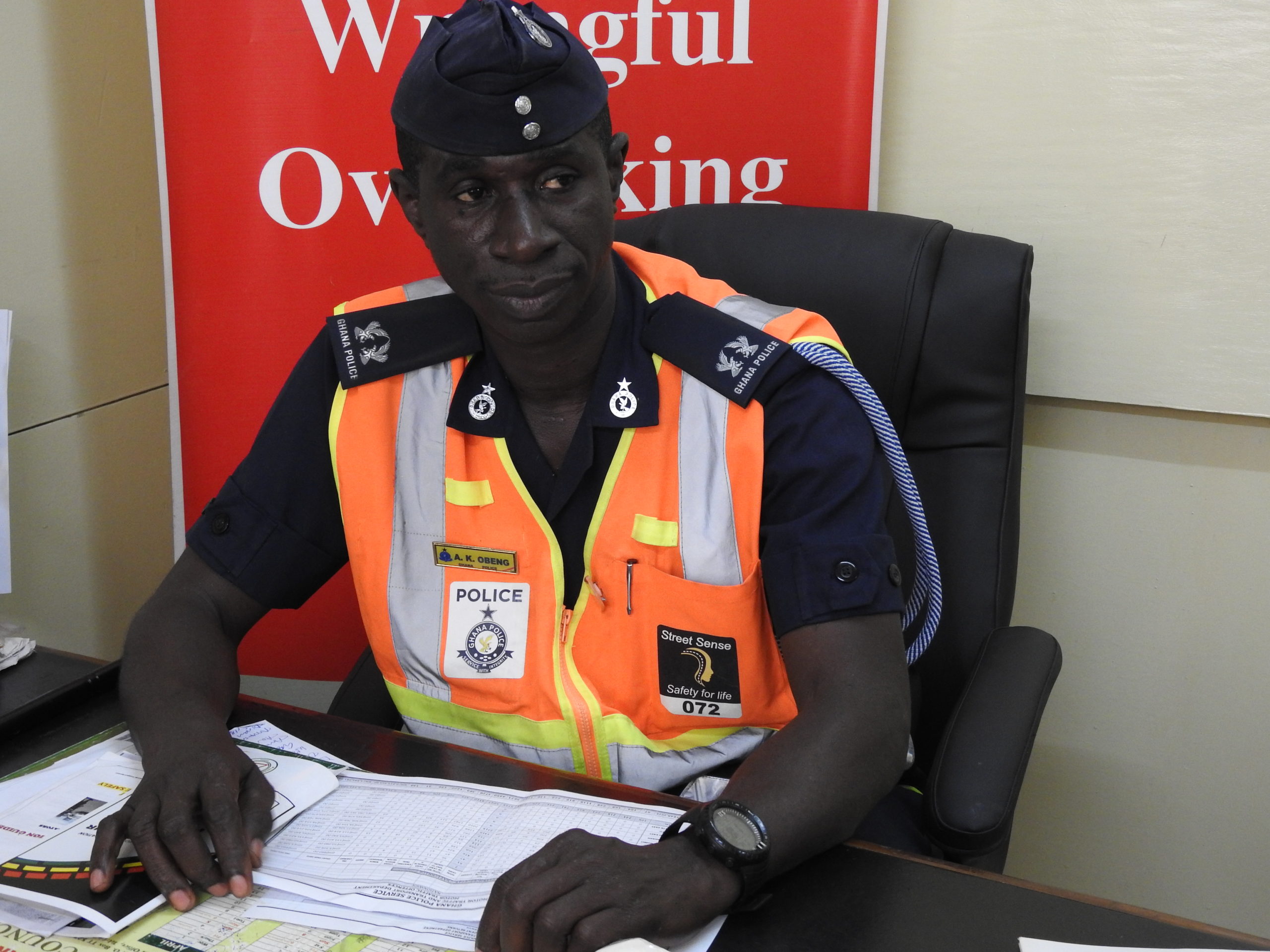 He was particularly concerned about motorcycle-related fatalities that had jumped from 69 in May to 87 in June.
He attributed the rising crashes to "unsafe use of motorcycles and indiscipline associated with commercial vehicles, in certain instances, non-compliance with road safety protocols".
"We need to be focused on ensuring that motorists comply with road safety regulations," he maintained.
He encouraged all road safety officers and the media to intensify education on the need for road traffic compliance.
He also pointed out that the rising trend could get worse as associated with election years due to increased movements.
He, therefore, called on members of the public to be extra cautious and adhere to judiciously to road safety rules to prevent high crashes and fatalities similar to previous election years.