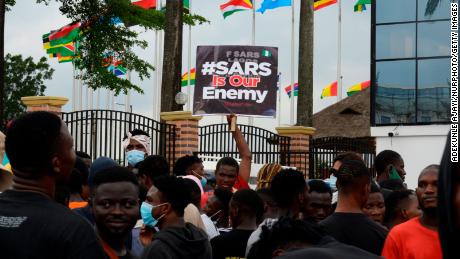 Kanye West, Kirk Franklin solidarize with Nigerians over police brutality protest
Some global celebrities have joined in protesting police brutality in Nigeria.
US rapper, Kanye West, and US gospel singer, Kirk Franklin, are among a host of celebrities who have taken to social media to condemn gruesome police excesses.
Enraged Nigerians, since last Friday, have been protesting both online and offline against brutality by the Special anti-robbery squad of the Nigeria Police Service (SARS).
The core of the protests has been a call for President Muhammadu Buhari to scrap SARS, as it is largely known for blatant extortion.
Thousands of Nigerians including celebrities have taken to the streets to protest the killings of innocent people and against the assaults.
To show solidarity some global and Ghanaian celebrities have taken to their social media pages to condemn the police brutalities.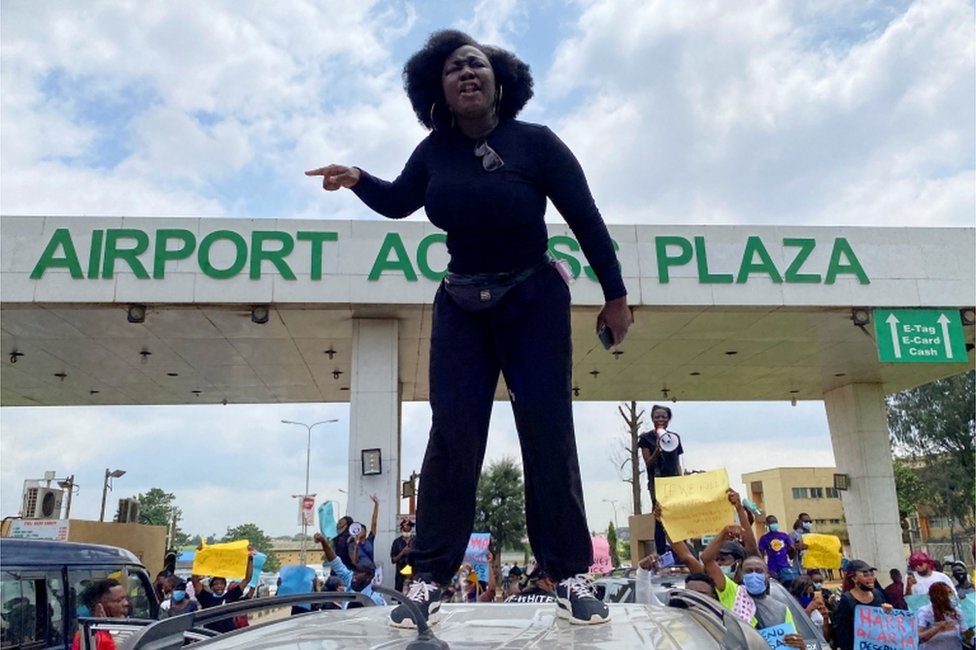 "Privilege will have you believing that what's happening in Nigeria cannot happen in Ghana. Listen, Nigerians didn't just wake up one day and decide to protest; this has been building up for many years. And it's not just about SARS either, people are just tired" Lydia Forson wrote.
Nigerian YOUTH👏🏽👏🏽👏🏽 you guys ROCK!!!! 🏆🏆🏆🏆🏆

— 𝓨𝓿𝓸𝓷𝓷𝓮 𝓝𝓮𝓵𝓼𝓸𝓷 (@yvonnenelsongh) October 13, 2020
I stand with my Nigerian brothers and sisters to end police brutality, the government must answer to the peoples cries #EndPoliceBrutalityinNigeria

— ye (@kanyewest) October 12, 2020

"Police brutality here in America often is an abuse of power-driven by race. To be brutalized, extorted, and murdered by your own people is unimaginable. Prayers up and I'm researching ways I can help. #EndSARS," Trey Songz tweeted Saturday.
Similarly, American gospel singer Kirk Franklin, using the photo of one of the Nigerian protesters, issued a message of support on Instagram: "For over 20 years, Nigeria stood with me, now I stand with you. #endsarsnow."
Privilege will have you believing that what's happening in Nigeria cannot happen in Ghana.

Listen, Nigerians didn't just wake up one day and decide to protest; this has been building up for many many years.

And it's not just about SARS either, people are just TIRED.

— VOTE #lydiaforson #africansocialstar (@lydiaforson) October 12, 2020
Sending love to Nigeria and Everyone protesting! We're with you 🇳🇬✊🏾❤️#EndSARS #EndPoliceBrutalityinNigeria #EndSARSBrutality #EndPoliceBrutalitynow #EndCorruptionNow

— Becca (@beccafrica) October 13, 2020
The police in Nigeria must release all detained protesters immediately. Those you arrested are not your problem. Your problem are the politicians and cabals sitting on your welfare packages and stunting your personal and professional growths. #EndPoliceBrutalityinNigeria #EndSARS

— Becca (@beccafrica) October 13, 2020
🤦🏾‍♂️ sorry my brother … We stand with you 🙏🏾 … it's insane and inhumane what's going on out there 🇳🇬 https://t.co/EkZVGOY7Hg

— Sarkodie (@sarkodie) October 12, 2020
How do you feel when you kill another Blackman
Nigeria 🇳🇬 mi say never sleep
Fight for your rights
With no apology we tell dem say #FvckSars #EndPoliceBrutality https://t.co/GPtVn5Kj1g

— SHATTA WALE (@shattawalegh) October 11, 2020
The Police They Say is Your Friend. Mandated To Enforce The Law so there's Peace Love And Unity. Now To Have the Police Do Otherwise should be condemned. This is happening in so many other countries in africa to have it get to this level in nigeria 🇳🇬 is a bad Look for AFRICA pic.twitter.com/Xv0aBfxWJe

— 1GAD (@stonebwoyb) October 10, 2020
Sending Energy To Everyone Protesting Today In Nigeria 🇳🇬..WE ARE PRAYING WITH YOU🙏🏽 #EndPoliceBrutalityInNigeriaNow #SARSENDED #LagosProtests #EndPoliceBrutalitynow #EndSarsNow

— EFYA (@EFYA_Nokturnal) October 13, 2020
I stand with my Nigerians brothers and sisters #endsars we are more determined than ever. #endsarsnow https://t.co/RNWKHZXZ3c

— Van Vicker (@iam_vanvicker) October 13, 2020
Everyday heroes. Tomorrow's people 🏆. The struggle continues. 🇳🇬 we dey with you. https://t.co/odFaB7f9re

— M.anifest (@manifestive) October 13, 2020
Evil will never seize, smh. Everyday is another day for black people to go to war. I wonder if we are indeed cursed people.

— EFIAODO (@efiaodo1) October 13, 2020
View this post on Instagram