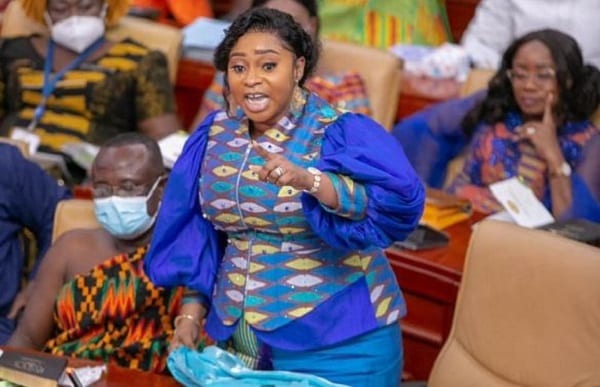 'Kasoa ritual killing' a wake-up call to teach children hard work – Adwoa Safo
Gender Minister, Sarah Adwoa Safo, has condemned the murder of a 10-year-old boy at Kasoa in the Central Region.
Reacting to the issue, Ms Safo said this should be a wake-up call to all Ghanaians to instil good values, such as hard work in children.
"This is unfortunately indicative of the reality and times we live in, where a section of our youth would go to every extent to live ostentatious lives without putting in any commensurate hard work and effort.
"This disturbing act should be a wake-up call to all Ghanaians, that as a country, we need to teach our children that there is dignity in hard work and with it comes the benefits thereof.
"We seem to have pushed aside the values and attributes of hard work, honesty and service to each other, which are the building blocks of every fair and just society," she said in a statement.
To achieve this, she called on all stakeholders, especially the media, to be selective with the kind of content they churn out.
She charged the Ghana Police Service to ensure that the culprits are made to face the law's full rigours.
Mrs Safo used the opportunity to also express her deepest condolence to the bereaved family.
"My heartfelt condolences go to the family, especially the mother of the young boy whose life has been cut short in such a gruesome manner.
"As a mother myself, with a son just around that age, I can imagine her pain and the anguish she is experiencing. The thought of any parent losing a child is unbearable especially under such dastardly circumstances.
"My heart really goes out to her. It is disturbing that this grotesque act was committed by teenagers who are barely 16 and 17 years respectively who ideally should have exemplified honorable aspirations for their lives instead of this undignified way to enrich themselves," she added.
Meanwhile, the Ofaakor District Court has remanded into police custody two teenagers accused of killing 10-year-old Ishmael Mensah at Kasoa in the Central Region.
The court presided over by Rosemond Vera Ocloo slapped the two, Felix Nyarko and Nicholas Kini, with murder charges.
Why the two are in court
On April 4, 2021, two teenagers were arrested by the police in Kasoa in the Central Region for their alleged involvement in a murder related to money rituals.
Felix and Nicholas are said to have lured their victim into an uncompleted building and reportedly killed him.
He was playing a video game when he was called into the uncompleted building by his playmates, who are known residents in the area.
Per the reports, the accused persons hit Ishmael with an object which resulted in instant death.
According to sources, the incident happened at the Kasoa suburb of Lamptey Mills on Saturday, April 3, 2021, between 5 pm and 6 pm.
Meanwhile, some residents in the area have said a fetish priest the suspects had contacted told them to bring human parts for rituals.
Ishmael lived with the mother and sister at Kasoa, whilst the father lived elsewhere.
According to Ishmael's mother, the father had travelled and had not been able to visit them for some time.
As a practice, the mother of the deceased said the boy often attends Islamic lessons on Saturdays but failed to do so on that fateful day because he was waiting for his father, who had promised to visit.
The mother said Ishmael's sister rushed in to inform her that he had been killed.
The residents apprehended the teenagers and reported the case to the Kasoa police.
The accused persons are to reappear on April 20, 2021.