Kumasi records 10 COVID deaths and over 200 new infections in two weeks
The metropolis of Kumasi has recorded 10 deaths as well 200 new infections of COVID-19 in about two weeks, a statement from the city mayor's office has said.
The July 19-dated statement, signed by the Public Relations Officer (PRO) of the Kumasi Metropolitan Assembly (KMA), Henrietta Aboagye, said among the cases recorded are those of the Delta variant which were first "discovered soon after the Christmas festivities in December, 2020".
But between July 1 and July 13, the metropolis has "recorded over 200 infection cases with 10 mortalities occurring at different treatment centres within the metropolis".
The KMA blamed the rise in cases on a supposed laxity with which inhabitants of Ghana's second-biggest city were going about their daily activities.
"The upsurge of the new cases in the metropolis have been mainly attributed to the general disregard for the COVID-19 safety protocols, funerals, parties and other social gatherings".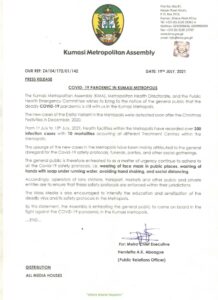 Stakeholders in the metropolis have therefore been encouraged to play their parts to ensure that mask-wearing, social distancing and regular washing of hands are observed in and around the Garden City.
Delta variant rising in Ghana
Ghana reported its first six cases of the Delta variant on June 22. These cases were among samples taken at the Kotoka International Airport (KIA) at the end of April, according to Dr. Yaw Bediako, CEO at Yemaachi Biotech.
The time difference between sampling and confirmation of the strain clearly presented a problem. As experts all over the world have warned, countries tend to play catch-up when it comes to viral epidemiology.
This is simply the fact that infections spread faster than testings can confirm. Dr. Bediako insinuated in an interview on Joy News TV that there is reason to believe that there was already a community spread of the Delta variant in Ghana.
Public health workers and officials dread the community spread of COVID-19 for a very good reason. It becomes harder to identify and quarantine persons of interest through contact tracing. But when it comes to the Delta variant the dangers are even much scarier given what we have come to know from other jurisdictions.
However, testing in Ghana leaves much to be desired by experts such as Dr. John Amuasi of the Global Health Department, School of Public Health, Kwame Nkrumah University of Science and Technology (KNUST).
Ghanaians are not willingly testing for COVID-19 even as the regime of restrictions continues to be relaxed, neglected and/or flouted. The public continues to live its life as though a pandemic is not with us, Dr. Amuasi complained in a recent TV interview.
This laxity on the parts of the public and officials has also contributed to the "alarmingly low" rate of vaccination, according to Dr. Amuasi, although the struggles of the government to secure vaccines seem to be another major impediment to this process too.
Ghana has neither the logistics nor the system to cognise in real-time or as quickly as necessary, COVID-19 variants and infection rates. For instance, according to Dr. Bediako at Yemaachi, "[s]equencing is not cheap. 100 samples cost 10k dollars", and thus very few are done, and far between in Ghana.
Add this to the facts that people are not wearing masks and socially distancing and what we have is a recipe for disaster. People are more likely to be hospitalised for the Delta variant if they are not vaccinated. Oxygen masks continue to be infamously in short supply in the country.