Late J.J Rawlings to be buried on January 27
After two months of suspense, Ghanaians will bid farewell to the late former President Jerry John Rawlings on January 27, this year. 
The burial service which has been scheduled for Wednesday, January 27, will take place at the Independence Square, Accra, from 9am to 11am.
The Ministry of Foreign Affairs and Regional Integration made this known in a circular on Tuesday.
The former President died on November 12, 2020, at the Korle Bu Teaching Hospital in Accra.
Per the release, the former president would be laid in state from Sunday, January 24 to January 26 at the foyer of the Accra International Conference Centre.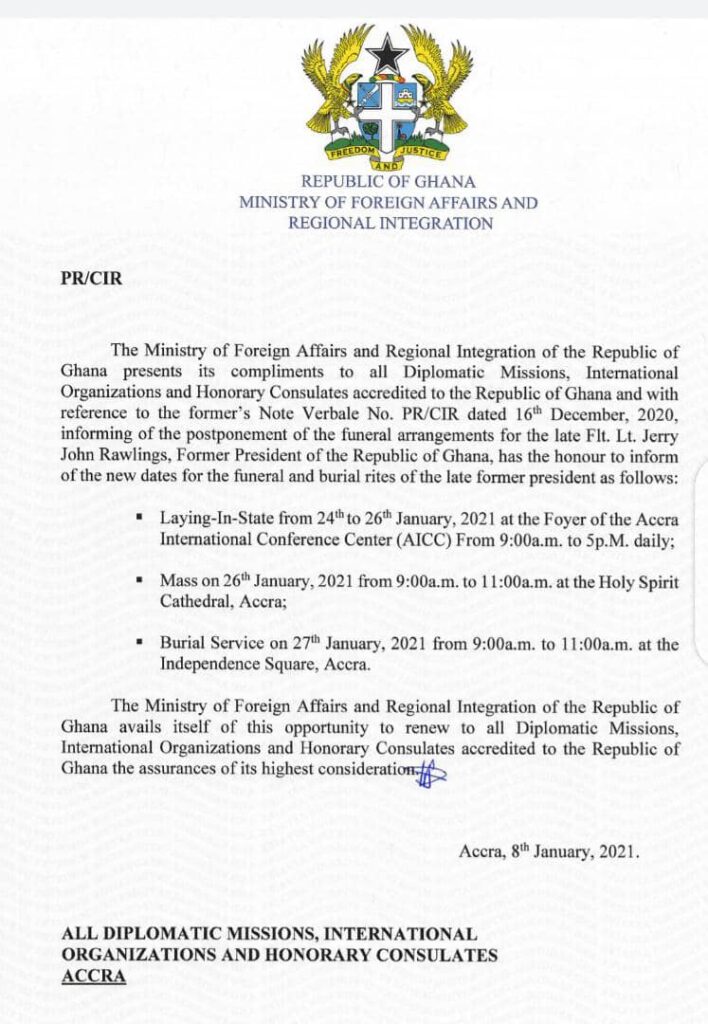 The funeral was earlier scheduled for December 23, 2020, by the State but this upset the Anlo Traditional Council (ATC) which wanted to be consulted.
The Council said the arrangements made at the time were not in accordance with the customs and traditions of the Anlo people.
Following the growing agitations, the funeral rites of the late former president was postponed indefinitely.
This compelled President Nana Akufo-Addo to ask the family, the ATC and other stakeholders to engage more on the issues.
After almost a month, it appears cool heads have prevailed paving way for the funeral to happen.
Former President Jerry John Rawlings died from an unknown illness on November 12, 2020. He died at 73.
The former military strongman left behind his wife and former First Lady, Nana Konadu Agyeman-Rawling and four children–Zanetor, Amina, Asantewaa and Kimathi.
Rawlings burst onto the political scene in May 1979 after a failed coup attempt.
While he was on trial, on June 4, 1979, his peers–junior officers in the Ghana Armed Forces organised another coup that wrestled him from the powers that be.
That military junta, the Armed Forces Revolutionary Council (AFRC) led the country for about 112 days before handing over to Dr Hilla Limann, the only president of Ghana's short-lived Fourth Republic on September 27, 1979.
He took the gun again to topple Dr Limann on December 31, 1981, forming the Provisional Defence Council (PNDC).
Rawlings governed the country as the Chairman of the PNDC for 11 years, before transitioning into a democratic leader when he won the 1992 and 1996 elections on the ticket of the National Democratic  Congress (NDC).