Let's put military invasion, other chaotic incidents behind us – Parliament pleads
Military storm parliament
Parliament has described as regrettable incidents that occurred in the build-up to the inauguration of Ghana's 8th legislature. 
In a statement signed by its Director of Public Affairs, Kate Addo, it noted that although the incidents nearly marred the elections, it would be good to build a united front and forge ahead.
"Parliament wishes to acknowledge the events that characterized the inauguration of the 8th Parliament and wishes to state that while most of the actions during the night were regrettable.
"Parliament would, however, like to put them behind it and work towards a more focused, unified membership aimed at promoting the best Parliamentary practices and good governance," excerpts of the statement read.
It also debunked allegations that a Parliamentary Service staff had tried to stuff the ballot boxes with papers, describing the allegation as totally untrue.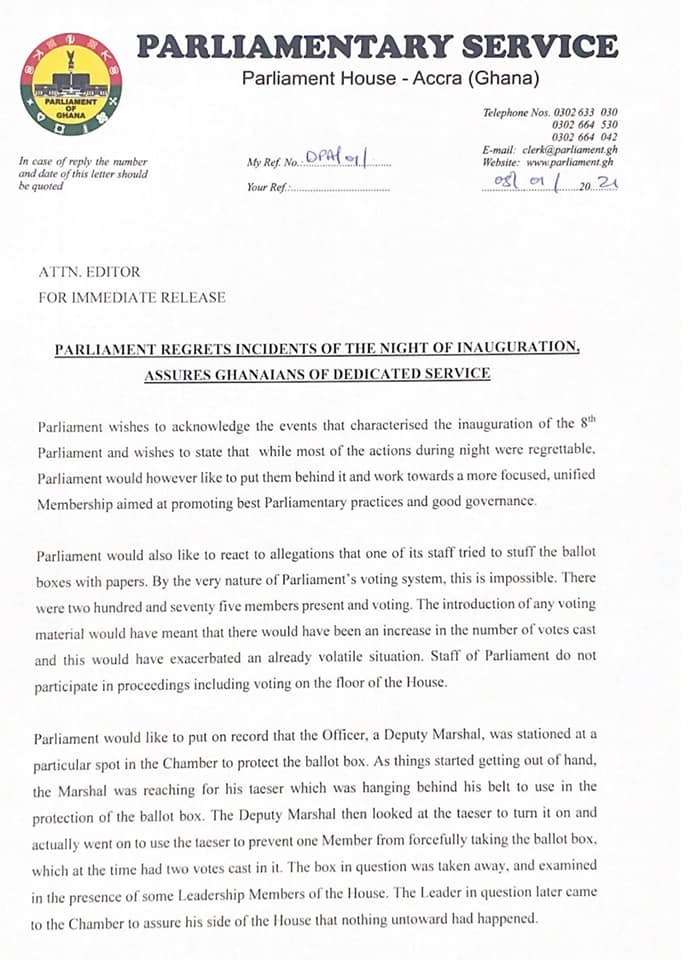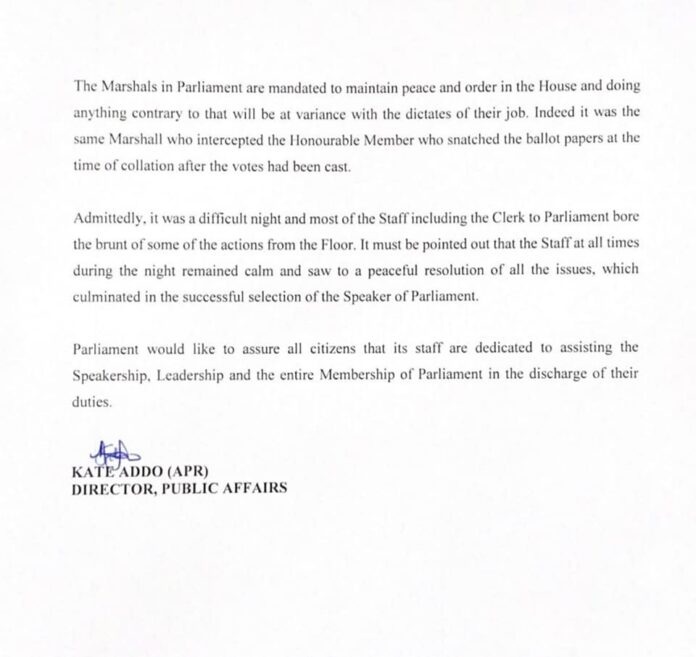 The election of the Speaker of the 8th Parliament of the 4th Republic was marred by scuffles between the NDC and NPP side in parliament.
The scuffle led to soldiers storming Ghana's parliament for the first time over the stalemate between MP-elects over whether voting should be secret during the election of a new speaker.
Violent confrontations led to a hold up after leadership of the NDC in the House accused their colleagues from the NPP of violating the secret ballot rule of the election by showing their ballot to themselves.
NDC MPs including John Jinapor and Muntaka Mubarak kicked voting booths in protest against their peers' decision to show their votes to their leadership.
Fast forward the Tema West MP Carlos Ahenkorah took to his heels with ballot papers while counting was ongoing.
He was given a wild chase by the NDC MPs, some of whom assaulted him in a free-for-all brawl.