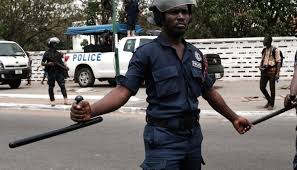 Lockdown: Police begin 'cyberhunt' for originators of 'fake' brutalities videos
"Nobody in their right senses" does that, the president condemned as he announced, a cyberhunt for orginators of 'fake' videos showing soldiers assaulting civilians as Ghana remains under a partial lockdown.
"I am extremely perturbed by acts of unpatriotic persons who are deliberately passing on and circulating old videos of alleged brutalities by members of the security services largely of foreign origin and largely presenting them as though they were new incidences by Ghanaian security personnel which have occurred during the course of this past week.
"It is sad. It is unfortunate, and it must end. We should all be in this fight together and there is nothing to gain from widespread fabrication of these videos whose sole aim is to create discontent among the population against the security services," he said in his Sunday night address to the nation.
Full text: Akufo-Addo's 5th address on fight against coronavirus
He said nobody in their right senses would gain from such acts.
He, however, condemned the use of excessive force by some security personnel during the lockdown which started last Monday and restricts residents of Accra, Kumasi, Tema and Kasoa from moving around as part of measures to tame the spread of coronavirus.
He said the Inspector General of Police and the Chief of Defence Staff of the Ghana Armed Forces had taken steps to investigate the incidents.
"They have given me the assurance that those found culpable will be sanctioned. The alleged wrongdoers have been withdrawn from the ongoing exercise."
To enhance command and control, he said more senior officers have been deployed at the operation level and each member of the security services taking part in the exercise handed guidelines for the operations.
About 1,000 soldiers are patrolling the streets of under lockdown after the government imposed a two-week lockdown to contain the spread of the deadly coronavirus.
But barely 48-hours into the operation, a section of social media was awash with videos of security forces brutalising civilians reportedly breaking lockdown rules.
Theghahareport.com could not verify the credibility of some of the videos. Voices in the video do not suggest actors speak Ghanaian languages.
However, a Brigadier-General marshalling the partial lockdown of the country is in disbelief that a religious country like Ghana can have citizens who enjoy sharing false news.
Brigadier-General Abraham Yeboah Nsiah, who commands the Southern Command of the Armed Forces, said several videos and photos showing soldiers beating up civilians were false.
'God's children don't tell lies' – Commander condemns 'fake' viral videos of military brutalities