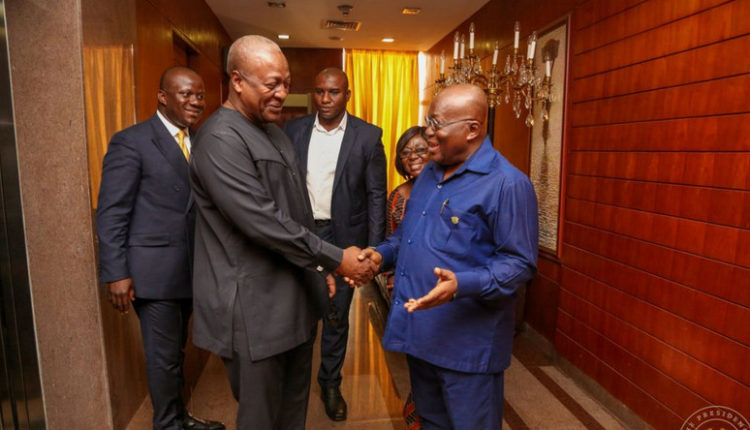 Lockdown relief package: Twitter toasts to Akufo-Addo and roasts Mahama
Savage and sarcastic, tweeter users have talked down John Mahama's chances of victory in the 2020 presidential elections.
This was after his rival and incumbent, president Akufo-Addo, announced some relief package for Ghanaians feeling the impact of the coronavirus outbreak.
The outbreak has seen businesses close while many workers stay indoors as government bans public gatherings and partially locks down the country.
Addressing the nation on Sunday evening, the President said, "Furthermore, government will absorb the water bills for all Ghanaians for the next three months that is April, May and June".
Coronavirus: Gov't absorbs water bills for the next three months – Akufo-Addo
One of the essential WHO safety protocols in coronavirus times is regular hand washing.
Social media users who took to twitter to troll the president's arch-rival said John Mahama should forget about the 2020 elections. They claim the current government, by this single gesture, has won the hearts of many electorates.
See posts below:
Nana Addo FaceTiming Mahama after his speech pic.twitter.com/gDLcy0yTa8

— JUST SHERLOCK🗯 (@wagyimi_dodo) April 5, 2020
Just watch this😂😂😂😂

Nana Addo
Mahama
Nana Ama
Bridget Otoo pic.twitter.com/OfjGIni6RI

— Koo Kesse (@KesseKoo) April 6, 2020
Na I thought I was the only one who dey feel Nana ein English Oo. " Fellow Ghanaians" 😂😂😂

Nana Ama
Bridget Otoo
Nana Ado
Mahama
Asiedu Nketia pic.twitter.com/VHjHi2lzg3

— Nsɛm Wɔ Krom (@NsemWoKrom) April 6, 2020
when Mahama tries going to the Flagstaff House in December: pic.twitter.com/LXh2ERh93R

— OTE$ 🦹🏿‍♂️ (@kwakzzzz) April 5, 2020
Mahama no bring the cure for corona virus dier make he forget o😂💀

— Jaabs 💉💧 (@mo_jaabs) April 5, 2020
Mahama no bring the cure for corona virus dier make he forget o😂💀

— Jaabs 💉💧 (@mo_jaabs) April 5, 2020
Nana Addo: Government will absorb the water bills of all Ghanaians from April…

Mahama rn👇 pic.twitter.com/DlfxOswqtS

— DE🅾️N🇬🇭 (@dEo_nN) April 5, 2020
Mahama right now after Nana Addo's address pic.twitter.com/fu0BbTpOiG

— whayasay!!  (@caleb_yeboah) April 5, 2020
Mahama: Akuffo Addo why are you doing this things 😭
Nana Addo: One person one handkerchief😂 pic.twitter.com/0AWmxTYcDe

— Agenda Nyame🐦🇬🇧🇬🇭 (@gyimimuhene) April 5, 2020
Mahama trying to show some skills just to win the heart of Ghanaians after Nana Addo speech but still "Dada Mahama awu⚰️"😭😭😭 pic.twitter.com/SCMXMj9BRI

— 🦋Dhεrrick Dε Hairyman🦋 (@de_hairymann) April 5, 2020
When Mahama is roaring but Nana Addo dey pretend as if nothing dey go on 😹😹😹💔 pic.twitter.com/gYTCVBnsdB

— Mr. Stal 🇬🇭 (@dickystal) April 5, 2020
Rydee the only tin mahama can win over Nana Addo is "erection" but not "election"

My President can dance too….🤣 pic.twitter.com/rfLSERlUHD

— The WiseMan (@NanaRhabbles1) April 6, 2020
Lordina mahama: "honey why are those men outside our windows?" pic.twitter.com/928FzpIHVc

— Bouff Daddy (@KwameOdurosarp2) April 5, 2020
Breaking News !!!

Nana Addo has a short message for Mahama

Enjoy 😊 pic.twitter.com/Hjgm3zwhrq

— 🕴🏽Mempeasem President 💉🐦🤥💙 (@AsieduMends) April 5, 2020
I dedicate to mahama, call him manuna! #coronavirusghana pic.twitter.com/PTW59CKS7z

— Kwame Kantinka, Jr. (@KingKantinka) April 6, 2020
Right now deɛ this be Mahama's level! Otherwise Onaapo 44‰ koraa will be ok pic.twitter.com/Cig3msDU96

— Ekurase Bɔga (@bj3399) April 5, 2020
Mahama after listen to Nana Addo show boy 🤣 pic.twitter.com/oh71ewbxWX

— Mayor 4 Kasoa 2021🗳 (@alfredfounds) April 5, 2020
General Mosquito : boss let's forget 2020

Mahama: pic.twitter.com/7QQk70vOpr

— Luk (@MrLukmvn) April 5, 2020
Bawumia: showwwboy! wasei hɔ oo. free water yi dier you no tell me sef. e over me. go check twitter, ghanaians afeeli saa ei

Nana Addo: hihihi me de tɛɛ wo. you see sey e source! mese before this pandemic goes erh, mahama de ne campaign money no nyinaa bɛpam GTP ama me. asoi 😂 pic.twitter.com/tdVi96XW4g

— wesT 🌍 (@mrwest_official) April 5, 2020
Nana Addo FaceTiming Mahama after his speech pic.twitter.com/gDLcy0yTa8

— JUST SHERLOCK🗯 (@wagyimi_dodo) April 5, 2020
Fmr President Mahama now 😁 pic.twitter.com/qk8x5YD9ZG

— Korso Na Gyimi🧸🦅 (@KorSoNagyimi) April 5, 2020
Nana Addo: no water bills for 3 months. 50% salary increment for health workers…

Mahama & Asiedu Nketiah: pic.twitter.com/63BQGGGuDO

— wesT 🌍 (@mrwest_official) April 5, 2020
Mahama dey search for the vaccine 😂😂😂😂😂 pic.twitter.com/5j2Iakiqlr

— Nana Amoakoh (@NanaAmoakoh17) April 6, 2020
Can someone please remind Mahama that if care is not taken, the only vote he will be getting this year, will be "Vote of thanks"#coronavirusghana pic.twitter.com/OFQUW5X4aB

— I Stan with pulisic 💙 (@Teeswift1) April 5, 2020
Anytime the NDC And MAHAMA hears " My fellow Ghanaians"😂 pic.twitter.com/ob2qqMJkNF

— 🇬🇭Quame_Libido🇬🇧💦 (@Quame_Libido) April 5, 2020