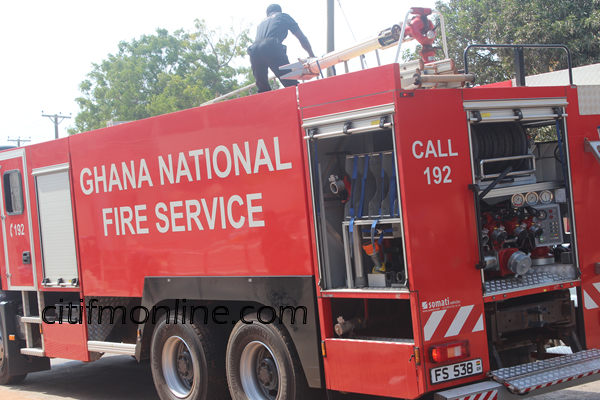 Man sets fiancee's room on fire, killing son
The Police in the Ashanti Region have arrested a 33-year-old driver, Kwaku Agyemang, for allegedly setting fire to the room of his fiancee, Miss Patience Kyeremanteng, over a dispute leading to the death of his fiancee's 10-year-old son.
The deceased, Prince Oti, got trapped in the fire and was burnt to death while his twin sister, Princess Oti, and younger sister, Blessing Animwaa Agyemang, 5, sustained burns.
Agyemang is currently at the Komfo Anokye Teaching Hospital receiving treatment under armed guard while the charred body of the boy has been deposited at the Akaase Methodist Hospital.
Police confirm
Confirming the arrest to the Daily Graphic, the Ashanti Regional Police Public Relations Officer, Assistant Superintendent of Police (ASP) Mr Godwin Ahianyo, said at about 1a.m last Tuesday, Mr Daniel Yaw Opoku, the owner of the house where the incident occurred, went to the police station to report that his house had been set on fire and that he suspected Agyemang to be the brain behind it.
He said the Fire Service was quickly informed and they proceeded to the scene to douse the fire.
According to the police, the suspect soon after setting the room on fire, left the scene, sprinkled petrol on himself and set himself alight and reported at the hospital that he was also caught up in the fire.
However, his fiancee, Patience, who was also at the hospital, informed the doctor that he was not at the scene and that he was the culprit that set the room on fire.
The police were consequently informed and he was arrested.
Three other rooms in the house also got consumed in the fire.
Landlord
Mr Opoku said the cry for help from Patience woke him up around midnight and he forced her door to rescue her and her two children.
He said they were unable to rescue the deceased since the fire had by then become very intense.
He said the suspect, who is a driver, came to the house with a gallon filled with petrol without anyone suspecting him because of  his profession.
According to the landlord, Patience had rented the room for about a year now and Agyemang, her boyfriend, regularly paid her a visit.
He said after setting the room ablaze, Agyemang absconded and later returned with some burns on his body claiming that he sustained the injuries from the fire.
However, Mr Opoku said that could not have been possible because it was he (Mr Opoku) who rescued Patience and her two children before waking up the other tenants.
He said even though the other tenants whose rooms also got burnt did not sustain any injuries, they lost their property.