March road deaths 202 with Kintampo accident increasing stats by 18%
Road accidents killed 202 people nationwide in March 2020, data from the Motor Traffic and Transport Department (MTTD) of the Ghana Police Service has shown.
This implies that over six people died every day because of road crashes in March 2020.
It represents an 18% increase from the 171 deaths registered in February 2020. The March figures went up because of the Kintampo accident on March 10.
A total of 31 people died in that accident alone, with 29 of them, including three children, getting burnt beyond recognition.
The Head of Education, Research and Training at the MTTD, Superintendent Alex Obeng, told theghanareport.com in an exclusive interview that the reduction in the carnage was encouraging at the beginning of March, but the accident on the N10 between Techiman and Babatuku "might have contributed significantly to why we missed the target and registered more deaths in March than earlier in February 2020."
The gender distribution of road fatalities for March 2020 showed 43 females and 159 males.
Superintendent Obeng explained that the outcome was "consistent with the national trend. Anytime we look at the data, about 25% of casualties are always females and 75% males, even though we have more females in our population."
A whopping 88% of the males involved in the accident were above 18 years, which means most of the deaths were people in the active and economically productive age group.
Total crashes reported in March were 1,192, which was marginally higher than the 1,111 road accidents in February 2020, an increase of approximately 7%.
In comparison, there were 285 deaths for the same period in March 2019, about a 30% slump.
Again, the reported 1,192 crashes for March 2020 was a reduction of about 8% from the 1,289 recorded for the same period in 2019.
Total vehicles involved in the March 2020 carnage were  2,002; again, a drop by 6% from the 2,129 figure recorded in March 2019.
Commercial vehicles involved in accidents dipped to 741 in March 2020 from 806 in March 2019, and private cars from 891 to 816.
The only parameter which saw an increase was motorcycle accidents which climbed from 432 in March 2019 to 445 in March 2020.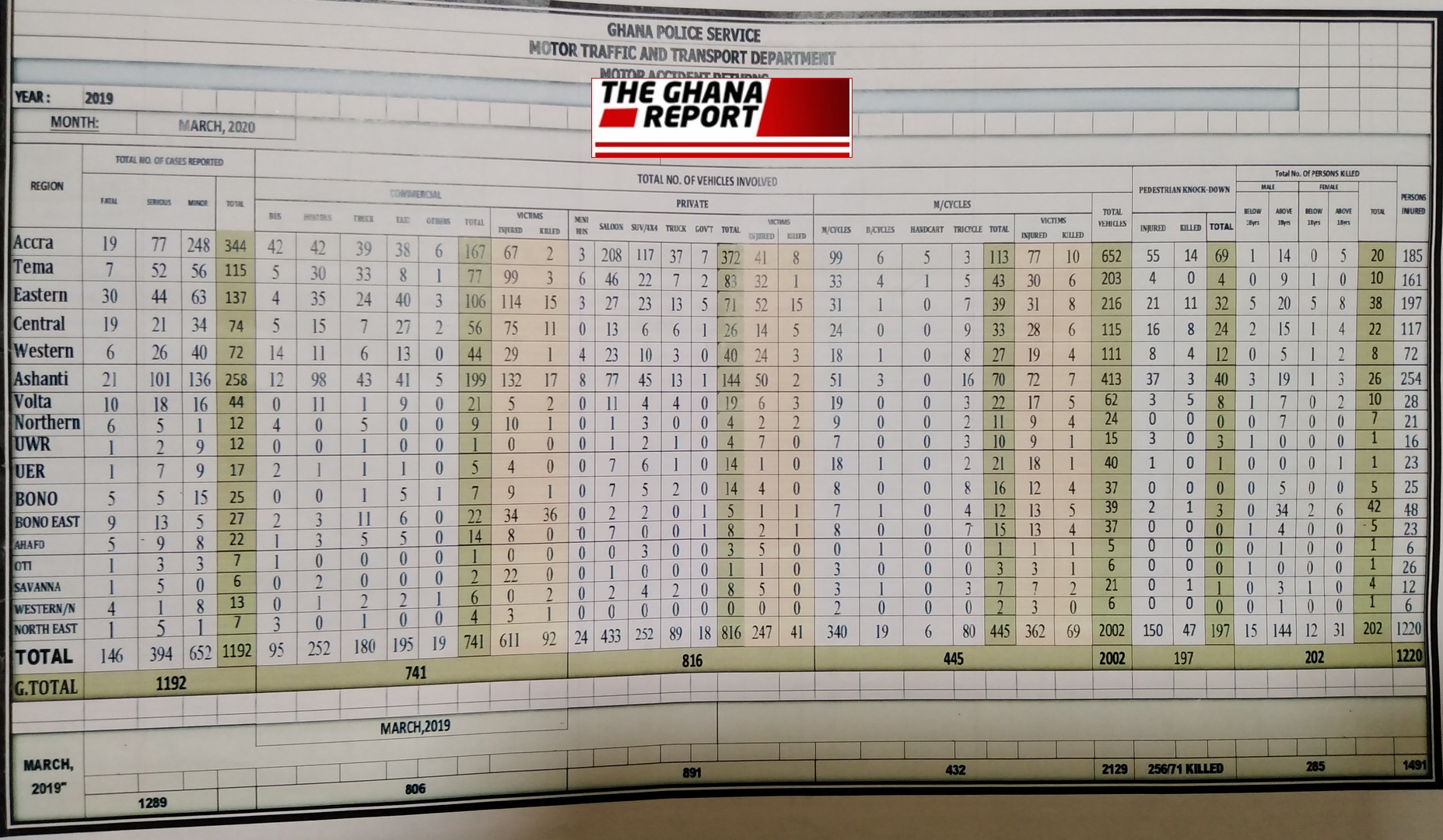 The figure for pedestrian knockdowns also shrunk from 256 to 71 associated deaths in March 2019 to 197 and 47 related deaths in March 2020.
Again total persons injured in accidents decreased from 1,491 in March 2019 to 1,220 in March 2020, a decline of 18%.
On March 16, President Akufo-Addo imposed social distancing directives and a ban on public gatherings after signing an Executive Instrument on restrictions. This came after Ghana recorded its first set of cases of the deadly coronavirus on March 12.
Superintendent Obeng noted that social distance impacted road traffic and accidents because "the last week of March led to a significant reduction in terms of vehicular population and road users."
This could have accounted for the marginal reduction in private and commercial vehicle crashes before the lockdown came into effect, he added.
Two weeks after the ban on the social gathering, the President imposed a partial lockdown on March 30 as the virus continued to spread.
Subsequently, the "last two days (of March) saw almost 90% reduction in terms of vehicular usage and population," in Accra, Tema, Kasoa, Kumasi.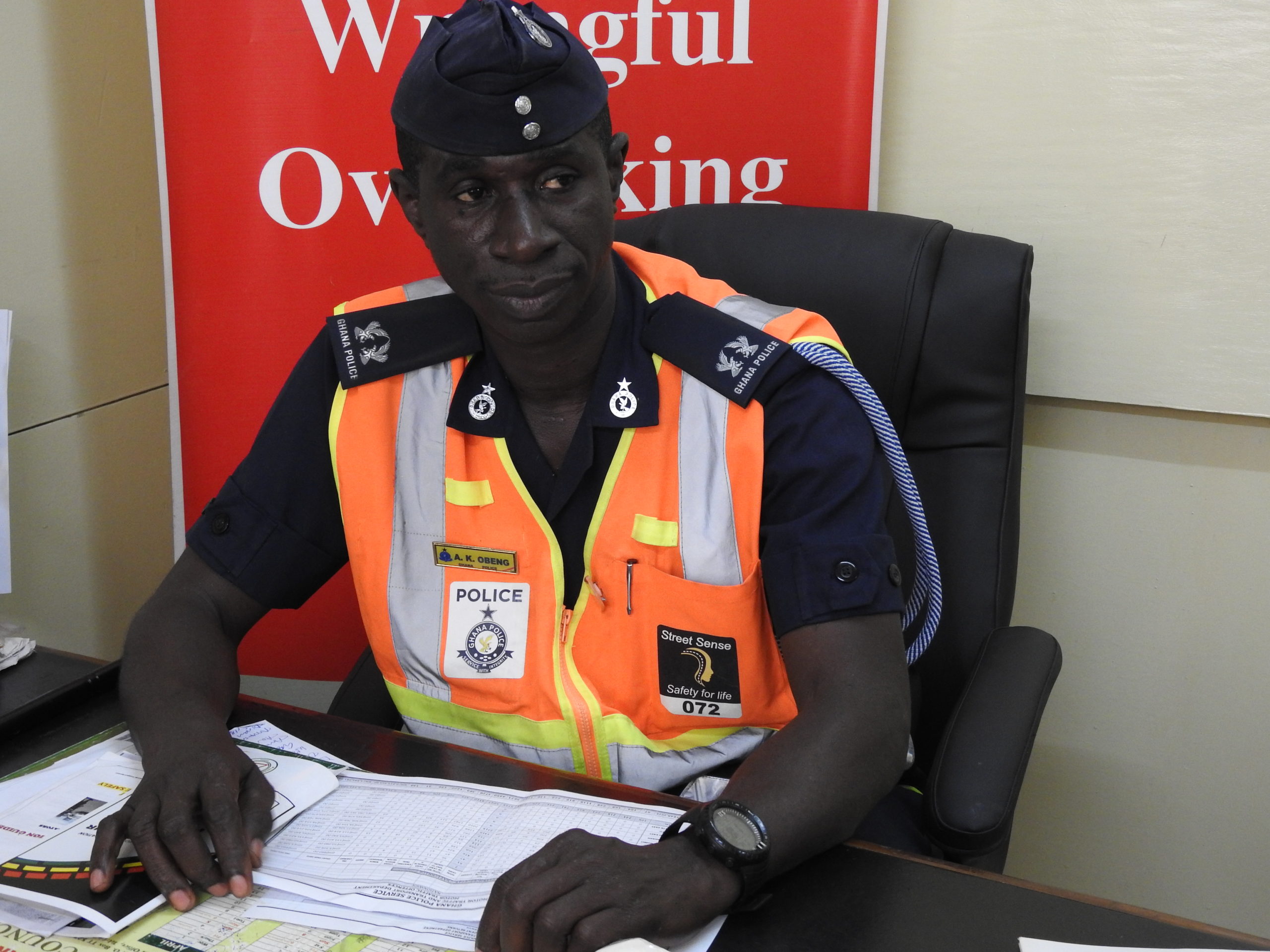 Superintendent Obeng further commended road transport operators for complying with social distance protocols by cutting the number of passengers. He applauded transport unions for mounting hand-washing equipment at various lorry stations to help reduce the spread of the disease.
With the lifting of the ban on partial lockdown, motor riders have flooded the streets carrying pillion riders against rules and regulations issued for road users.
Mr Obeng said the police would put a "human face" to enforcement and emphasis on education and awareness creation.
Fatal February: 171 died in road accidents; 23% drop from January
He said the law enforcement agencies were working on not keep many offenders in confinement "so that we don't do crowding of police station cells" to avoid further spread.
However, repeat offenders would be arrested, the motorcycles would be impounded and they would be prosecuted accordingly.
Over 130 motorbikes impounded as Okada riders return after lockdown lift