Maroon 5's Super Bowl show fails to catch fire
Comets, drones, marching bands and Spongebob Squarepants: Maroon 5's Super Bowl half-time show had everything… except an emotional connection.
The LA band delivered an enthusiastic, breathless history of their biggest hits – from This Love to Girls Like You – but unlike the copious pyrotechnics, their set failed to catch fire.
They came closest with a low-key rendition of the ballad She Will Be Loved, performed in the middle of the crowd, as Chinese lanterns rose into the Atlanta skyline.
As the song reached its climax, the lanterns revealed themselves to be drones – flying in formation to spell out the phrase "one love".
Behind singer Adam Levine, one couple wrapped their arms around each other and swayed, apparently oblivious to the fact they were being watched by millions.
Levine threw himself into the show, dropping to his knees, bashing out guitar solos and running up and down the M-shaped stage – but the band tried to cram in too much material (nine songs in 13 minutes) to create a coherent, enjoyable show.
It didn't help that they had to make room for rapper Travis Scott, who arrived on stage by "crash-landing" in a comet, and local star Big Boi, formerly of Outkast, who drove onto the field to perform Kryptonite and I Like The Way You Move.
The guests helped propel the show – Scott, in particular, doubled the energy on stage – but it's notable that the most successful Super Bowl performers of the last decade, Lady Gaga and Prince, both rejected collaborators.
Maroon 5 closed their set with their biggest hit, Moves Like Jagger, as Levine stripped off his vest top and fireworks shot from the roof of Atlanta's Mercedes-Benz stadium.
They didn't leave the stage defeated – casual fans will have been reminded why they're still around and producing hits after 17 years – but neither will the show be talked about as an all-time classic.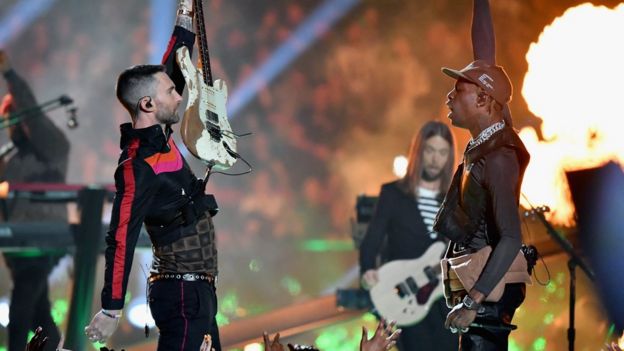 Source: BBC