Melania calls for national security aide Mira Ricardel's firing
US First Lady Melania Trump has called for a top national security aide to President Donald Trump to be fired.
The first lady feuded with Mira Ricardel, the deputy national security adviser, during her tour of Africa in October, US media report.
"It is the position of the Office of the First Lady that she no longer deserves the honour of serving in this White House," her spokeswoman said.
The White House and the National Security Council has yet to comment.
The statement came as US media reported that Mr Trump was considering a shake up in the White House West Wing, and may be considering removing White House Chief of Staff John Kelly or Department of Homeland Security Secretary Kirstjen Nielsen.
As deputy national security adviser, Mrs Ricardel has served under National Security Advisor John Bolton on the powerful National Security Council for the past seven months.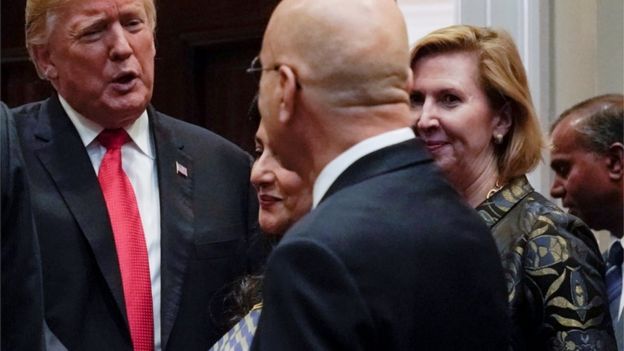 According to US media reports, Mrs Trump and Mrs Ricardel fell out during the first lady's trip to Africa last month and quarrelled over seating arrangements on her plane.
During her trip there, Mrs Trump told ABC in a rare interview that there are people in the White House that she does not trust.
She said she gives the president "my honest advice and honest opinions and then he does what he wants to do".
source: BBC