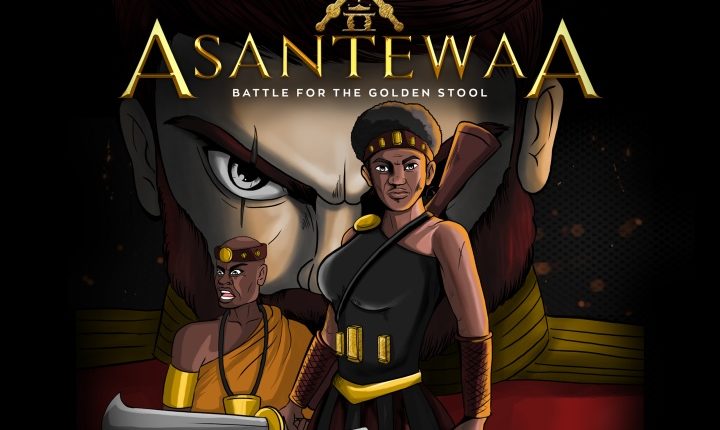 Mills Media announces "Asantewaa: Battle For The Golden Stool" comic book and game
"Asantewaa-Battle For The Golden Stool" is the very first Ghanaian/African superhero featured character in a comic book and video game. The creators of this wonderful piece are driven by a strong sense of passion for culture and this piece is geared towards unveiling the culture and ancestral memories of Africa and to show the world there are real-life superheroes people don't know about yet.
When we think of superheroes, we usually see them as people dressed in costumes who have the ability to either fly, breath fire, punch through brick walls or even shoot webs.
However, there are individuals who do not have these special abilities but have done great things and these are the real heroes. These are our heroes, particularly African heroes, and our motherland Ghana has seen the existence of many superheroes. The problem, however, is our failure to acknowledge these great men and women as heroes.
Instead, we have warmly embraced the fictional heroes created for us in movies and in books. "Heroes of the Past" is a project aimed at presenting the great Ghanaian men and women who have contributed to our Ghanaian history to the world in a modern and exciting way.
"Asantewaa- battle for the Golden Stool" is a modern retelling of the story of the great Yaa Asantewaa, who exhibited pure bravery when she led the Ashanti Kingdom against British Colonialism in 1900. She led her people to fight the British to protect the Golden stool, which was and still remains the symbol and pride of the Ashanti Kingdom.
Yaa Asantewaa is the reason why the Ashantis still take pride in the Golden stool. This project gives you the opportunity to relive these great historical moments as it provides interesting dialogue and graphic representation of events.
What a better way to learn about the history of our great nation than through the eye of an artist. It presents relatable characters that would make everyone especially children easily fall in love with our past Ghanaian heroes.
How cool would it be if our children would prefer to have Ghanaian/African hero themed parties instead of a Spiderman or ironman theme party. Technology is a sure way to achieve this.