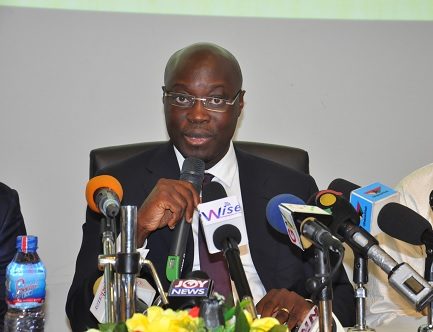 Minority discredits gov't's claim of transforming economy
The Minority in Parliament has discredited the government's claims of having turned Ghana's economy from a struggling one to a promising one.
The Minority argued that figures such as the budget deficit provided by government officials in comparison with the NDC's performance in 2016 are not a true reflection of the facts.
At a pre-budget press briefing by the Minority in Parliament, the Ranking Member of Parliament's Finance Committee, Cassiel Ato Forson clarified that the government's acclaimed improvement on GDP was only as a result of contributions from the oil sector.
Quoting figures to support his claim, Mr. Forson said: "The nominal GDP for 2016 before the rebasing was 168.7 billion cedis therefore if you are to express the 13. 1 billion as a percentage of 168.7 billion, the fiscal deficit will be and was 7.8 percent of non-rebased GDP…The nominal GDP for 2016 after the rebasing was 215 billion Ghana cedis and the fiscal deficit for 2016 was 6.1% under rebased GDP and obviously not 9. 3 percent."
We've transformed the economy
The Minority's claim follows President Nana Addo Dankwa Akufo-Addo's assertion that the government has turned around the poor fundamentals of Ghana's economy in less than three years.
"We inherited a situation with a large fiscal deficit, which has been turned around now; considerable imbalances in the way in which our economy was being run have also been turned around; a 15.4% inflation is today at 7.6%, the lowest in two decades. These are the building blocks for us," the President said.
The consequences of this turnaround, he explained, have been that "in these three years, we have had one of the fastest-growing economies not just on the continent, but also in the world, with this year being a 7.6% growth. It has been consistent over these last three years."
The President made this known on Monday, 11th November, 2019, when he spoke, as part of a panel including President Cyril Ramaphosa of South Africa and President Paul Kagame of Rwanda, at the African Investment Forum's "Invest in Africa's Space" event, currently ongoing in Johannesburg, South Africa.
Ghana's economy records 6.7% growth in first quarter
Provisional figures released by the Ghana Statistical Service (GSS) in June 2019 revealed that Ghana's Gross Domestic Product(GDP) grew by 6.7 percent in the first quarter of 2019.
This is compared to the same period in 2018 which was at 5.4 percent.
The non-oil GDP growth for the first quarter of 2019 was at 6.0 percent year-on-year compared to 4.2 percent recorded in the first quarter of 2018.