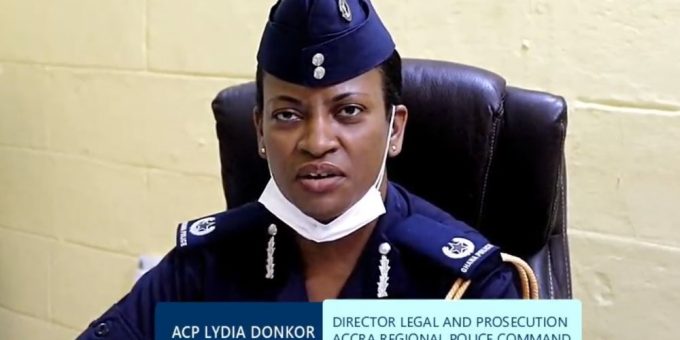 More than 400 arrested for flouting lockdown directive – ACP Donkor
The Ghana Police Service has announced that it has arrested a total of 406 recalcitrant people who failed to adhere to the restriction law imposed during the lockdown period.
It also said 103 persons are currently in police custody across the country while 248 have been granted bail pending further investigation and 41 have been processed for court.
According to the police, the said persons were caught in clear violation of the Imposition of Restriction Act.
Briefing the press on developments so far, the Director, Legal and Prosecution of the Ghana Police Service, ACP Lydia Donkor, said the recalcitrant people would be dealt with.
She disclosed that Greater Accra had the highest number of arrests with 161 reported cases.
ACP Donkor assured the general public that the service was dedicated to ensuring that the laws of the country are applied to the latter to serve as a deterrent to others.
"If you are arrested, and after successful investigation, you will be prosecuted and if found guilty, you are likely to pay a fine of ranging from GH₵12,000 to GH₵60,000 or to a term of imprisonment of 4 years to 10 years or both," she stressed.
President Akufo-Addo on March 15, 2020, in a television broadcast, declared the ban on all public gatherings including conferences, workshops, funerals, festivals, political rallies, church activities.
The ban was part of measures to stop the spread of coronavirus in the country.
At the time, Ghana had recorded six cases of COVID-19.
The President in that broadcast gave a caveat that private burials were permitted, however, mourners present must not exceed 25.
"Private burials are permitted, but with limited numbers, not exceeding 25 in attendance," President Akufo-Addo said.
But on Easter Sunday, media reports showed that hundreds of residents of Chorkor in Accra had defied the ban on social gatherings and besieged the beach in their community.
The Police have therefore warned that it would arrest anybody found at any beach during the period of the restriction of movements in the country.